All the top stories and transfer rumours from Tuesday's national newspapers…
EPL resumes this weekend, Man Utd vs Leeds Utd, Chelsea vs Liverpool postponed
It's official, the English Premier League resumes this weekend, but three matches, Manchester United vs. Leeds United, Chelsea vs. Liverpool and Brighton vs. Crystal Palace, have been postponed.
The Premier League has released an announcement that Premier League matches will resume this weekend, with seven of this weekend's 10 Premier League matches continuing, three of which have been postponed due to the Queen's funeral.
Including Chelsea vs Liverpool, Manchester United vs Leeds United and Brighton vs Crystal Palace, the rest of the matches will continue.
Two of the matches, Chelsea vs Liverpool and Manchester United vs Leeds United, were scheduled to be played on September 18, local time, while the Queen's funeral will take place on September 19, local time.
Antoine Griezmann is about to permanently join Atletico Madrid.
Full agreement very close: FC Barcelona will receive €25M.
According to previous media reports, Griezmann's buyout clause is 40 million euros, and the condition for triggering the mandatory buyout clause is that Griezmann plays 50% of the matches (at least 45 minutes of playing time). He was sent out after the 60th minute of every game.
Reports say that Barca and Atletico are very close to reaching an agreement on Griezmann's 25 million Euro buyout clause, and Barca wants to conclude negotiations before the start of the international matchday.
Roma 2-1 Empoli | Highlights
In the 6th round of Serie A, Roma faced Empoli on the road. In the first half, Dybala hit the post with a shot, then Dybala shot from a distance, Satriano's header was parried, and Bandinelli equalized with a header. In the second half, Dybala assisted Abraham to push the goal, Ibanez made a penalty, Pellegrini took the penalty and hit the goal frame, Akpa Akpro dyed red, finally, Roma 2-1 Empoli.
FIFA23 ability value of the top ten: Messi, Mbappe, De Bruyne, Benzema, Lewandowski are 91
FIFA23 announced the top 23 players ability value, Messi, Mbappe, De Bruyne, Benzema, Lewandowski five people 91 points, C Luo 90 points.
FIFA23 players ability value of the top 23
1 Benzema 91: speed 80, disc 87, shooting 88, defending 39, passing 83, body 78
2 Levan 91: speed 75, dish 86, shooting 91, defense 44, passing 79, body 83
3 Mbappe 91: speed 97, dribbling 92, shooting 89, defending 36, passing 80, body 76
4 De Bruyne 91: speed 74, dispossession 87, shooting 88, defense 64, passing 93, body 77
5 Lionel Messi 91: speed 81, dribbling 94, shooting 89, defending 34, passing 90, body 64
6 Salah 90: speed 90, dribbling 90, shooting 89, defense 45, passing 82, body 75
7 Van Dyke 90: speed 81, dribbling 72, shooting 68, defending 91, passing 71, body 86
8 C Luo 90: speed 81, disc 85, shot 92, defense 34, pass 78, body 75
9 Courtois 90: fish leap 84, reaction 90, hand type 89, speed 44, kick-off 75, stand 89
10 Neuer 90: fish leap 87, reaction 88, hand type 88, speed 56, kick-off 91, standing 91
11 Neymar 89: speed 87, dispossession 93, shooting 83, defending 37, passing 85, body 61
12 Son 89: Speed 88, Dispossession 86, Shooting 89, Defending 34, Passing 78, Body 75
13 Mane 89: Speed 90, Disposable 88, Shot 83, Defense 44, Passing 80, Body 77
14 Kimmich 89: speed 68, disposable 84, shooting 72, defense 83, passing 87, body 79
15 Casemiro 89: speed 63, disposable 72, shooting 73, defense 87, passing 75, body 90
16 Alisson 89: fish leap 86, reaction 89, hand type 85, speed 54, kick-off 85, stance 90
17 Kane 89: speed 68, dispossession 82, shooting 91, defense 47, passing 83, body 82
18 Edson 89: fish leap 87, reaction 88, hand type 82, speed 64, kick-off 93, stance 88
19 Kante 89: speed 72, dispossession 81, shooting 66, defense 87, passing 74, body 82
20 Oblak 89: fish leap 86, reaction 89, hand type 90, speed 49, kick-off 78, stance 87
21 Harland 88: speed 89, dispossession 80, shooting 91, defense 49, passing 65, body 87
22 Kroos 88: speed 53, dispossession 81, shooting 81, defense 71, passing 90, body 68
23 Marquinhos 88: speed 79, dispossession 74, shooting 56, defense 89, passing 75, body 80
Ligue 1 official August best player candidates: Lionel Messi, Neymar, Sotoca
The French Professional Players' Union (UNFP) has announced the candidates for Ligue 1 Player of the Month for August: Lionel Messi, Neymar and Sotoca.
In August, Paris played 5 Ligue 1 matches and won 4 and drew 1. Messi started all 4 matches and gave 3 goals and 4 assists, while Neymar also made 5 appearances and gave 7 goals and 6 assists.
Lens also won 4 and drew 1 of their 5 Ligue 1 matches in August, with 5 goals and 1 assist in 5 appearances for striker Sotoka, who was the first player to score a hat-trick in the top 5 leagues this season.
Referee Association: Bonucci was ruled offside because VAR could not use the machine in question
The Italian Referees Association gave their explanation for Juventus' stunning goal against Salernitana being blown because Bonucci was offside.
The Italian Referees' Association said: 'The episode about the Juventus-Salernitana match and a video that was released after the match were first published on the internet and then reproduced by several media outlets. However the technical body of the National Referee Commission has checked all the images provided by VAR and VAR assistants regarding the match and found no correspondence with any of the videos in question.'
'The technical body of the National Referee Commission also explicitly asked the company providing the technical services for VAR whether the VAR officials could use the cameras, known as 'tactical positions', during the match at Juventus Stadium. The answer was that the VAR could not use the cameras and therefore the referee could not use them. We are now confident that we have clarified the incident.'
Laporte is training with the team and is expected to return after the international day
Manchester City officials announced that Laporte, who suffered a knee injury at the end of last season, has trained with the team and is expected to return after this month's international match day.
Laporte suffered serious knee injuries against Wolves and West Ham United last season and has been absent from City's games since then.
City officials announced that Laporte has returned to training today and manager Pep Guardiola predicts that he will be available to play after this month's international day.
Laporte, who previously missed pre-season preparations due to the injury, has had enough time to fully recover.
Crystal Palace game postponed due to rail strike
Chief executive Paul Barber said, "Both clubs wanted the match to take place on the original date and there has been a continued dialogue in order to achieve this with all relevant authorities, including Sussex and Surrey Police, other local emergency services and agencies, Brighton & Hove City Council, the Premier League and Crystal Palace.
"Following these discussions, and having carefully evaluated all the factors, the unanimous recommendation of the Safety Advisory Group was to postpone the fixture with the full support of the Premier League.
"While we fully appreciate this will be of huge disappointment to both sets of fans, and causes disruption to both teams' fixture schedules as well as those of supporters, the safety of fans of both clubs, our matchday staff, players and officials must be the priority.
"We have taken into consideration how difficult it would be for fans of both clubs to attend the match without access to the rail network and we looked at a number of options and various contingency plans.
"This included additional travel options or moving the match to earlier or later in the same week, with Sunday afternoon the latest the fixture could be played on that weekend due to the international break, but it simply was not possible to play the match with a full capacity crowd in attendance.
"We apologise for the inconvenience this may have caused fans of both teams, but we feel that the right decision has been reached. We would also like to thank Crystal Palace, the Premier League and the authorities for their support in this matter."
At this stage there is no new date for the fixture and ticket holders should retain their tickets. Once a new date is confirmed, match-ticket purchasing supporters unable to attend the game will have seven days to apply for a refund.
Brighton's weekend Premier League match with Crystal Palace has been postponed due to a strike in the local transport system, so Brighton will not be able to play their league matches as scheduled for the second week in a row.
Liverpool had 100 million euros offer Valverde in the last two days of the summer window
Liverpool had tried to bid for Federico Valverde from Real Madrid with 100 million euros in the last moments of the summer window.
The 24-year-old Valverde's existing 2027 expires with Real Madrid, and this season he has become an absolute starter under Carlo Ancelotti, who has played in all seven of Real Madrid's games so far this season, starting six of them, and has contributed two goals and two assists.
Liverpool had the idea of playing Valverde this summer, they offered 100 million euros to Real Madrid to bring in the Uruguayan international two days before the summer window closed, but the Galacticos chose to reject it.
Balverde's existing contract with Real Madrid is up to 1 billion euros in default, and he is currently valued at 70 million euros on the German transfer.
Muller: Mane reminded me not to pass the ball to Lewandowski by mistake during the game
Bayern is about to have a Champions League match with Barcelona at home on Tuesday night, local time. Before the match, Bayern star Muller attended a press conference, where Muller talked about the opponent Barcelona and his former teammate Lewandowski.
About the match with Barcelona
Muller said: "In the last 10 days, Mane has always jokingly reminded me to be careful in the game and not to pass the ball to Lewandowski by mistake. We have to play our own style in tomorrow's game and not focus too much on Lewand."
"We want to win the game and when we lose the ball, we have to be proactive and go for the ball. The game will be very open. In the Bundesliga our recent opponents have been teams with great defenses. I think tomorrow's game will be good for the neutral fans."
On Bayern being without Lewandowski now
Muller said, "Our connection on the pitch has been getting better and better in recent years. But now that we have a lot of flexible players up front, we don't have a target player. Opponents don't know who we are targeting on our attacking line, but we have to make such an attack work."
On Bayern's starting XI
Muller said, "Of course we will exchange ideas with the coach. But the coach is an expert in management, tactics and starting. He doesn't need to get advice from us. We will discuss, that's normal. But ultimately it's up to the coach to decide."
Will the Champions League be more motivating than the Bundesliga?
Muller said, "Some games in the Champions League will have more attention, like the Champions League game at the San Siro or against Barca. That has extra motivation. The attacking line might run farther, maybe not in the Bundesliga. There are times when it is like that."
On whether he keeps in touch with Lewandowski
Muller said, "I have a good relationship with Lewandowski, especially on the pitch. But off the field we don't have too much together, apart from golf. After he left, we were in contact via cell phone. Of course after the draw, the conversation was hot. Soccer players are no different from anyone else."
"He didn't tell us before why or where he was leaving. And there was news in the media first that Barca was where he was going. He didn't tell us before, but if it were me, I would have done the same."
On tomorrow's match
Muller said, "When the top teams in Europe meet, everyone is very motivated. Of course we know that Barcelona has started the season well. They have scored a lot of goals. I like them, but we will also take our game tomorrow to the limit."
Bayern Munich is currently third in the Bundesliga with 12 points after 6 rounds of matches with 3 wins and 3 draws. Barcelona is in second place in La Liga with 4 wins and 1 draw after 5 rounds of matches.
Barca hopes to complete the contract extension with Gavi this Thursday, release money 1 billion euros
According to the Daily Sport, Barca hope to complete the contract extension with Gavi this Thursday.
The 18-year-old Gavi's contract with Barca is set to expire in the summer of 2023.
According to the report, Barca hopes to renew Gavi's contract until 2026 this Thursday. The renewal will bring Gavi's contractual fee to 1 billion euros. Barca hopes to complete the extension before the international match day.
Gave's signing ceremony will be done without the presence of fans, just like Marcos Alonso and Bellerin.
THE SUN
Everton are ready to make a bid for Ferencvaros winger Adama Traore, according to reports.
Paris Saint-Germain Ultras are boycotting an away clash against Israeli side Maccabi Haifa due to "excessive" security restrictions.
Chelsea star Hakim Ziyech could be in line for a shock recall to the Morocco squad ahead of the 2022 Qatar World Cup, according to reports.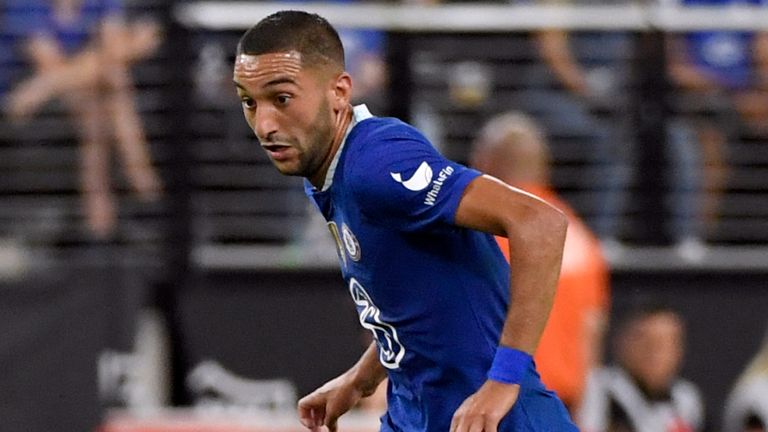 Manchester City's new centre-back Manuel Akanji has owned up to being a former Manchester United fan.
Manchester United boss Erik ten Hag is making his players undergo training sessions where they use just their weaker foot, according to reports.
DAILY MAIL
Paul Pogba faces a race against time to be fit for the 2022 World Cup after it was confirmed he will return from injury just 10 days before the first ball is kicked in Qatar.
Ecuador face being kicked out of the World Cup after new evidence revealed a shocking admission from one of their players of using a false birth certificate, with the confession made in an official investigation that was covered up by the Ecuador Football Federation [FEF].
DAILY EXPRESS
Chelsea owner Todd Boehly tried to keep Billy Gilmour at the club by warning him that his situation could soon change prior to his deadline-day move to Brighton, according to reports.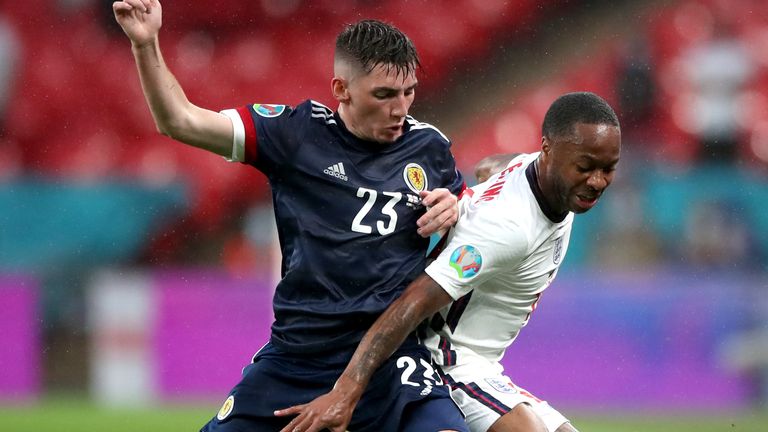 Liverpool may be about to lose out on signing Barcelona midfielder Gavi as he could reportedly sign a new contract this week.
DAILY MIRROR
Manchester United are reportedly set to extend the contracts of five players in the coming months to avoid them leaving for nothing next summer.
Cristiano Ronaldo's time at Manchester United could be nearing its end as the 37-year-old starts to explore interest from Saudi Arabian clubs as a serious option.
Manchester United reportedly believe that only their own 'indecisiveness' scuppered a blockbuster deal for Frenkie de Jong in the summer – and that the Dutchman would have joined them, despite claims to the contrary.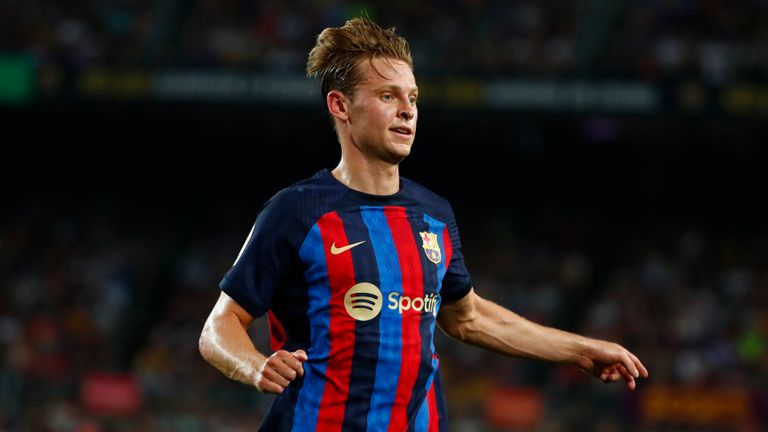 THE ATHLETIC
Sporting Lisbon boss Ruben Amorim believes former Tottenham winger Marcus Edwards can play for England in the future.
The lead domestic scout at Rangers has left to head the English FA's talent ID programme from U18s up to senior level.
DAILY RECORD
British clubs will reportedly not play the Champions League anthem before home games this week due to the mourning period following the passing of Queen Elizabeth II.
SCOTTISH SUN
Mark Fotheringham is in talks with Bundesliga strugglers Bochum to take over as boss and make history – as there's never been a Scottish manager in the German top flight.
DAILY TELEGRAPH
Christian Wade has revealed that he was unable to join Wasps earlier this summer due to the club's recruitment freeze, after Racing 92 announced he had signed for the club on Monday.