All the top stories and transfer rumours from Thursday's national newspapers…
Barça official: El Mundo violated the club's reputation and confidentiality and is studying legal measures
Barcelona FC officially released an announcement in response to the report of Spanish media "El Mundo" which exposed the inside story of Messi's contract renewal.
Barça official announcement
With regard to the information published today in El Mundo, FC Barcelona expresses its indignation at the leakage of certain parts of the information in the judicial process. The club also regrets that this information and documents were not shared with the parties when the media boasted of having "access to a large number of Barça's documents and emails".
In any case, the article violates the club's reputation and confidentiality by creating public documents that are not relevant to the investigation of the case. For this reason, and in order to protect the rights of FC Barcelona, the club's legal department is already studying the appropriate measures to be taken.
Thomas Tuchel is keen to get straight back into management
He would be interested in the Bayern job, should it become available. He would even be ready to lower his salary and earn less than he did at Chelsea to coach in Munich.
Bayern suffered four consecutive rounds of winlessness in the league, and the managerial position of Nagelsmann has become a hot topic of discussion in German football recently. The latest news from German media "Sports Illustrated" says that the German manager Tuchel, who just stepped down from Chelsea, is interested in coaching Bayern.
Thomas Tuchel doesn't want to take a break from coaching and is very eager to taking over another team. The Bayern job is very attractive to him and he would accept a lower salary that in the Premier League.
Merson called Maguire to apologize for his comments
Paul Merson, who previously said in an interview that Manchester United's £80 million payment for Maguire was "ridiculous", recently revealed that he called Maguire to apologize for saying such a thing and said that as a pundit, he sometimes has to criticize players like Ronaldo who are 100 times better than him.
Manchester United bought Maguire from Leicester City for £80 million that year, setting a record transfer fee for a defender. When asked for his opinion on the transfer, Merson said in an interview with Sky Sports at the time, "Harry Maguire's £80 million transfer fee is ridiculous, ridiculous."
Maguire was named captain by Solskjaer in his first season at Manchester United, but he was very poor last season. In recent weeks of the new season, Maguire has been out of Tenhaag's starting XI, with Varane and Lisandro Martinez being the regular centre-back pairing in recent days.
"I don't want those comments I've made ((past criticism of Maguire)) to be right – I'd rather be wrong."
"I want England to win the World Cup and I want Maguire to score the winning goal, that's my opinion and I called Rodgers to ask if he could give me Maguire's number."
Merson admitted that he was a little too over the top with his comments about Maguire, though this is not the first time he has made a lapse in judgment.
When Manchester City paid £55 million for De Bruyne in 2015, Merson called the transfer "a joke", and when Liverpool signed Salah two years later, he was not impressed.
"I've probably said 50 times how great De Bruyne is, but people still come to me (because of the previous comments)."
"I don't like to hear people say things like 'he's stupid, sack him, he's simply brainless', I have a good understanding of soccer, even if sometimes I make mistakes."
"If you talk to me about politics, I don't have a clue. But soccer I've played all my life, so I can say I understand it."
"The hardest thing about being a pundit is that you sometimes have to criticize one of the best players in the history of soccer, and Ronaldo is really 100 times better than me, (but as a pundit) I have to say that with him, Manchester United can't win anything."
39-year-old North Macedonian star Pandev retires
On September 22, North Macedonia star Pandev announced his retirement.
"I don't have the enthusiasm to train anymore, and after that I'm going to devote myself to my family."
Pandev started his career at Bellasica in the 2000-01 season, joined Inter in 2001, then moved to Lazio and other teams before rejoining Inter in 2009. After that, he joined Napoli, Galatasaray, Genoa and Parma, among others.
During his career, he played 644 club matches, scored 139 goals and gave 75 assists.
At the national team level, he led North Macedonia to their first ever European Cup. He scored 39 goals in 122 matches for the national team.
Shakira: Separating from Pique was probably the darkest moment of my life, I tried to hide it from my children
In an exclusive interview with ELLE magazine, Shakira spoke about her relationship with Barcelona centre-back Gerard Piqué. Pique's relationship with Shakira has broken down after he cheated on her earlier.
I want to talk to you about this dark moment. You used words like "I feel like I'm drowning". How did you deal with the breakdown of your relationship?
Well, it's really hard to talk about in person, especially because this is the first time I've talked about this situation in an interview. I've been quiet and just trying to deal with it all. Well, yeah, it's hard to talk about it, especially because I'm still going through it, because I'm in the public eye, because our separation is not like a normal breakup. So it's been hard not only for me, but for my kids as well. Incredibly difficult. There were paparazzi out there, in front of my house, 24 hours a day, every day of the week. I had no place to hide from them with my kids except my own house. You know, we can't walk in the park like a normal family, or go get ice cream, or do any activity without the paparazzi following us. So it's hard. I tried to hide the situation from my kids. I try to do that and protect them because that's the number one priority in my life. But then they hear something at school from a friend or they read something unpleasant and unpleasant online, and it just affects them, you know?
Currently it seems that you and Peek are in a custody battle over where the children should be. Is this an accurate reflection of the current situation?
Honestly, the local Spanish media is portraying it in an ugly light. And aggressive towards my children. They don't deserve to be watched or watched every second, to be photographed at the end of the school day, or to be followed by paparazzi. They deserve to live normal lives. Everyone is second guessing all these aspects of our, and more importantly our children's, lives, many of which aren't even real. No matter how it ends, he is the father of my children. We have an obligation to do what we can for these two incredible boys, and I believe we will figure out what is best for their future, their own life dreams, and what is a fair solution for all involved. I would also appreciate it if we had the space to do this privately.
I do want to ask about the breakdown of your relationship. Picker is already in a new relationship. It sounds like you didn't want your relationship to end, and it's surprising that it has. How did you come to understand that you wouldn't be together anymore?
I think these details are somehow too personal to share, at least for now – everything is so raw and new. All I can say is that I put everything I had into the relationship and my family. Before my kids started school, I lived a real nomadic life – I lived my whole life as an artist, traveling constantly, going all over the world, touring, doing shows, promoting, setting up schools in Colombia, and recording in different countries around the world. Even in the first years of my relationship with Pique and when I gave birth to my first son, Milan. I took him everywhere with me from the time he was 2 months old.
FIFA23 explode eggs again! Players can control the popular American drama "soccer coach" skipper and team
Soccer game FIFA23 will soon be available, the game official exploded eggs again, players can use the characters and teams of the popular American drama "Football Coach" in this game.
Soccer Coach" has a good reputation and won several awards in the United States, the main character Ted Lasso (Ted Lasso) coach and the team he coaches Richmond (AFC Richmond) is very popular.
In the FIFA 23 game, players can use Ted Lasso to coach Richmond in career mode, join the Premier League or any career league.
In addition, Richmond can also be selected in career mode, online friendlies and seasons, where the team's home stadium, Nelson Road Stadium, will also be restored in the game.
Juve set a two-month deadline for Allegri, also contacted Conte
According to journalist Tancredi Palmeri, Juve set a deadline for Allegri, two months if Juve is not able to turn the tide, Allegri will be fired, while Juve also contacted Conte, who is open to returning to Juve.
The journalist said that Allegri, in addition to the recent poor record and coaching performance, the interview with Sconchetti is to create a new rift with the Juve hierarchy, Allegri to their own perspective for the current situation and difficulties of their own, to do the personal side of the communication. But this interview did not get permission from Juve's communication director Claudio.
It is reported that Nedved did not push for the immediate dismissal of Allegri, but wanted to give Allegri a deadline. It is worth mentioning that when Allegri first stepped down at Juve, Nedved was the very person who wanted him to leave.
The Juve hierarchy wants to give Allegri a final two months to prove himself until the World Cup interval. If Juve is not able to meet the goal of reaching the last 16 of the Champions League and an improved league performance before the start of the World Cup, then Allegri will be fired.
Agnelli was the first to give the collective decision on Allegri's stay to the board on Friday. For now the transitional solution of reserve team boss Montero leading the team on a temporary basis remains the most likely, and Juve's side is hoping that Zidane will take over rather than replace Deschamps in charge of the French team after the World Cup.
What is perhaps most notable is the connection with Conte, who was contacted by the Juve side, who did not reject the possibility of returning to Juve and is open to a possible return next season. It is reported that on the Juve senior side, Elkann and Nedved want Conte to return, while Agnelli does not want Conte to return, but if external factors and return conditions allow, Agnelli will have to accept the option of Conte's return.
Conte's current contract expires in 2023, Conte previously did not negotiate with Tottenham to extend the contract, he postponed the renewal talks until January next year.
Phil Jones may have played the last game of his Manchester United career
According to ESPN's Manchester United team reporter Rob Dawson, Phil Jones may have played the last game of his Manchester United career.
The reporter said: "Phil Jones may have played his last game for Manchester United. He will likely be allowed to leave the team quietly when his contract expires next summer. He almost retired during the new crown epidemic."
"Phil Jones stayed at Carrington this summer for an individual training programme while the full squad went on a pre-season tour. His potential transfer in the summer fell through due to his health and with no definite time frame for his return, Tenhag didn't think it made sense to register him."
Phil Jones, 30, has not been in United's Premier League squad this season and his contract is set to expire next summer.
Dembele hopes to be a World Cup debutant
Barca striker Dembele spoke to French media outlet RMC about the last 5 years, his reasons for staying at Barca and working with Mbappe in the national team.
About the last 5 years When I first joined Barca I was as young as everyone else, I went out sometimes back then, but not as much as people think. I hurt my hamstring many times and my trainer kept telling me that if I didn't put in more effort the injury would come back. And with the help of Coman and Xavi, things got better and better. From then on, I rarely got injured.
From 2017 to 2021, I wasted a lot of time and lost five precious years of my life. Koeman's arrival at Barça was a turning point and I had to work hard to prove I was important.
Now I feel good at Barça, I have the trust of the whole team, the whole club, and I am happy, which is good. Because I've been through a lot in the last five years.
Now everyone is talking about my game and no longer saying that I play for money. It was my dream to play for Barca and I'm happy that I can achieve it day by day.
Talking about France and the World Cup
Our goal is to successfully defend our title, but we still have to be very cautious and some teams are very strong. For me, there are no weak teams anymore, you can beat every team or lose to every team. It has become more difficult, but I think France will compete for the title in Qatar.
We have to keep working hard because there is still a long way to go before we reach the top. There are a lot of good players in the team at the moment and I will continue to work hard so that I can be stronger and fly higher.
Talking about the impact of becoming a dad on life, at the moment I don't realize it, it just happens. It's great, we're all growing up and becoming a dad means more responsibility.
KFC apologises for executive's threat to Mbappe and France national team
KFC considers suspending sponsorship of the French team because of Mbappe's cool-headed behavior
The vice president of KFC France, one of the "official partners" of the French national team, said that he would firmly defend KFC's sponsorship rights in the French national team, and that the company might end its sponsorship activities with the French national team and the Ligue 1.
Alain Béral, vice president of KFC France, said in an interview that the disagreement between Mbappe and the French Football Federation has nothing to do with the sponsor: "We pay some very clear sponsorship fees and we will resolutely defend our rights if needed. If the player does not want to fulfill the sponsorship contract, then the company will terminate its sponsorship for the French Football Association and Ligue 1."
Mbappe first called for the French Football Federation to reopen negotiations with the player's portrait rights in March of this year. He skipped a photo shoot this week with official sponsors of the French national team, including Uber Delivery, KFC, Coca-Cola and others.
Koulibaly: Africa is the continent of perseverance and determination, it's time to win the World Cup
Recently, Senegal captain Koulibaly was interviewed about his outlook on the World Cup.
Koulibaly said Africa is a resolute and daring continent, and it's time to win the World Cup.
Koulibaly said, "We still remember the disappointment of the '18 World Cup, because we could have done better. I was really very sad to go home without even making it out of the group stage."
"For me, it's a good moment for African countries to win the World Cup, and the continent is a very resilient and determined continent. Of course, because we are now African champions, every opponent will be careful to play against us and it will be more difficult for us."
Milan may offer for Rennes winger Doku in the winter window
According to the Italian media Football Market, AC Milan may make an offer to Rennes for Belgian winger Doku in January next year.
The 20-year-old Doku, who came from Anderlecht's youth system, moved to Rennes for 26 million euros in October 2020 and has made 10 appearances for the Belgian national team so far, scoring two goals and playing with the team in last summer's Euros.
Now reports from Soccer Market claim that Milan are currently monitoring Doku's performances and could make an offer to Rennes for the Belgian international in the winter transfer window next year.
Doku's current contract with Rennes expires in 2025 and he is currently valued at €20 million on the German transfer.
THE SUN
Antonio Conte is being linked with a sensational return to Juventus.
Frenkie de Jong has revealed he never wanted to join Manchester United in the summer despite his future at Barcelona being up in the air at the time.
Manchester United boss Erik ten Hag told new boys Tyrell Malacia and Antony to "take it easy" on each other after their previous battles in Holland.
Sergio Busquets looks set to call time on his 22-year career with Barcelona amid interest from David Beckham's Inter Miami.
Chelsea and Manchester United are among five European clubs interested in signing Borussia Dortmund midfielder Jude Bellingham this summer, according to reports.
Luiz Felipe Scolari revealed bust-ups with Didier Drogba and Nicolas Anelka led to his sacking as Chelsea boss.
DAILY MAIL
RB Leipzig defender Josko Gvardiol has left the door open on a potential January switch to Chelsea, who reportedly bid for the Croatian's services in summer without any success.
Aston Villa face a defensive injury crisis after Lucas Digne suffered an ankle injury that is likely to keep him sidelined for several weeks.
Memphis Depay has hit out at his lack of game time for Barcelona, claiming that 'it is not enough.'
DAILY EXPRESS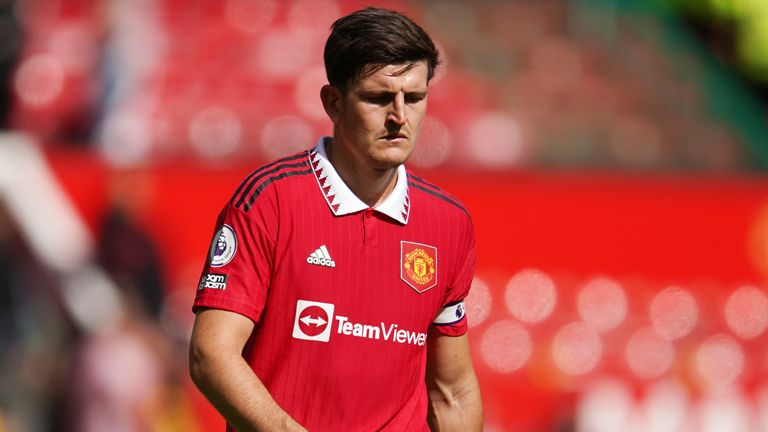 Those in the camp of Harry Maguire reportedly feel that he has been let down by the players and staff at Manchester United.
THE TIMES
The new government is considering putting plans for an independent football regulator on hold and giving the game a fixed deadline to come up with an acceptable alternative.
The Football Association is prepared to accept that some FA Cup ties may have to be played without replays this season to ease fixture congestion.
Arthur Melo has recruited a physiotherapist, a fitness coach and a nutritionist to work with him daily as he looks to impress Jürgen Klopp and forge a lengthy career at Liverpool.
DAILY MIRROR
Barcelona have declared they will pursue legal action after details surrounding Lionel Messi's contract talks were released in the Spanish press.
DAILY TELEGRAPH
American teams could take on the Champions League winners with Uefa planning to revamp the Super Cup into a four-club mini tournament.
Almost two-thirds of lower-league clubs would consider earlier kick-offs to reduce floodlight usage amid the cost-of-living crisis, according to a survey.
THE GUARDIAN
Uefa's statement apparently blaming Liverpool supporters for causing the delay to the start of the Champions League final in Paris was prepared a considerable time before the day of the match.
DAILY RECORD
Ambitious English side Doncaster City have used an ancient claim over their national status to apply for a place in next season's Scottish Cup.