All the top stories and transfer rumours from Wednesday's national newspapers…
Ronaldo is eager to play in the World Cup, but also wants to continue playing in Euro 2024
When attending the Gala Quinas de Ouro 2022 ceremony held by the Portuguese Football Federation, Ronaldo said he was eager to play in the Qatar World Cup and also hoped to continue playing in the Euro 2024.
Ronaldo, 37, is Portugal's all-time leading scorer and this winter's World Cup in Qatar will be his fifth World Cup appearance.
There are claims that the Qatar World Cup may become the 37-year-old Ronaldo's last tournament, to which Ronaldo said at the award ceremony, "I hope to play in the Qatar World Cup, but also eager to continue to play in the 2024 Euro."
In this ceremony, Ronaldo got a special award for being the player who scored the most goals at the national team level in world football. When he took to the stage to receive the award, Ronaldo said, "I am proud to receive this award, I never thought I would be able to achieve this one day, I thank all the people who have helped me in my career, it has been a long road, but I would like to say that the road is not over, I will continue to take more responsibility and face more pressure."
"I'm grateful to the Portuguese Football Federation and look at the teams we have today, futsal, youth teams, women's football are all great. I hope to continue playing for the national team for a longer period of time, I'm still motivated and my ambition is still high. There are a lot of good young players in the team today and I want to be part of the World Cup and the Euros and I feel happy. Many of the people present at the awards today are players I have played with and some who are playing with, and I am proud to be part of the changing times. Wakata even joked with me that 'you have played with just about everyone until you have been until you are old'".
Ronaldo has played 189 matches for Portugal, scoring 117 goals.
Grealish not expected to extend his contract with Manchester City next season
Jack Grealish has told those around him that he doesn't expect to stay at Manchester City beyond next summer and has already asked his agent to search for potential new clubs.
Manchester City's $100 million man Jack Grealish had a successful season under Pep Guardiola as he and City won the Premier League title, which is an impressive feat for any player.
However, many saw his numbers and fans still felt a bit of a loss considering the $100 million City spent.
Last season, he played only 26 games in the Premier League, scoring three goals and earning three assists.
In other games, he made 13 appearances, scored twice and got one assist, so he didn't contribute much to the team.
Atletico Madrid fan insults Vinicius after holding up monkey doll in Madrid street
An Atletico Madrid fan posted a video on social media saying that he was beaten up on the streets of Madrid, but the incident started when he insulted Real Madrid winger Vinicius by raising a monkey doll in public.
Vinicius was racially insulted by Atletico fans before the start of the Madrid derby last weekend, and the Brazilian star responded by dancing with his teammates to celebrate his goal during the match.
An Atletico fan recently insulted Vinicius, who recently suffered a racist attack, by taking out a monkey doll in the streets of Madrid and dressing it in a white t-shirt representing Real Madrid and tying it with a Real Madrid scarf, but the fan was then beaten up and posted his experience on social media.
World newspaper broke the news that Messi 20-year contract renewal requirements

10 million euros renewal bonus, can leave the team at any time
Western media "World" broke the news of Messi's requirements when renewing Barcelona's contract in 2020, including the requirements of three years of contract years, 10 million euros of signing bonus.
In 2020 Messi was once eager to leave Barca for other teams, but eventually in the efforts of the then Barca president Bartomeu, Messi finally stayed in the summer of 2020. But Messi, who was eager to renew his contract with Barca a year later, did not stay as Laporta promised and eventually had to leave for Paris due to Barca's poor financial reasons.
Le Monde exclusively revealed the various demands made by Messi when he renewed his 20-year contract.
A new contract of at least three years, expiring in 2023.
10 million euros in renewal bonuses.
a special private box for his family at the Camp Nou, as well as Suarez.
Lionel Messi still retains the right to leave at any time, with a breach of contract clause of only a symbolic 10,000 euros
Compensation for Messi's sacrifice of salary reduction during the epidemic, which has a 3% interest rate
A private jet for the whole family to use during Christmas.
If there is a tax increase in the new contract, the club will be responsible.
It is reported that Barca basically agreed to all the requests from Messi's side, except for two conditions, that is, the leave anytime clause (reduced breach of contract requirement) and the renewal bonus of 10 million euros. This is why Messi did not agree on a contract extension with Barca in 20 years at that time.
After Laporta became Barca's president, the new board executives likewise rejected the conditions on Messi's part. El Mundo said that Messi's team then probably changed their conditions and in fact the two sides had agreed on a contract extension, but the inability of La Liga to pass Messi's new contract (financial factors) eventually led to Messi leaving Barca.
Reese James dyes his hair pink
Recently, Reece James took to social media to post a photo of himself training with England and can be seen dyeing his hair a new color.
In the photo, James dyed a strand of his hair pink, which looks very conspicuous. He followed the photo with the caption "Be yourself" and a "heart" emoji.
England's next match will be away to Italy.
Mbappe took part in the marketing photo shoot of the French team
Mbappe, who caused an uproar over his portrait rights, reportedly took part in a marketing campaign for the French team.
Mbappe said on Tuesday he refused to participate in any marketing activities for the French team, after he attended a seminar organized by the French Football Federation, which had previously promised to revise the national team's portrait rights agreement.
This is not only a matter of the team's portrait rights, but also of its marketing obligations. Based on the discussions between the president of the French Football Federation, Le Graet, and some executives, the French Football Federation finally promised to "revise as soon as possible the original agreement governing the portrait rights of its national team players". The meeting was organized after Mbappe announced in a statement that he does not intend to participate in Tuesday's marketing campaign, said a source from the newspaper L'Equipe.
The issue is crucial for the French Football Federation, as Tuesday's group photo is a necessary shot to allow the French team's sponsors to prepare the ads to be shown during the World Cup. Mbappe participated in the event as normal as any other player and completed all the necessary filming. Mbappe's boycott on the issue of the national team's portrait rights, launched since March, highlights his opposition to the agreement signed by the French Football Federation in 2010 on the subject: he demands that players be allowed to have the right of censorship over the federation's partners and that their portrait rights be used more fairly.
The 23rd new addition!
Nottingham Forest signs 22-year-old goalkeeper Kanuric
Nottingham Forest officially announced that 22-year-old Bosnia and Herzegovina goalkeeper Adnan Kanuric has officially joined the team.
Nottingham Forest released an announcement on the team's official website: The team confirmed the signing of young goalkeeper Adnan Kanuric, let's welcome him to the team!
The 22-year-old Bosnia-Herzegovina goalkeeper, born on August 8, 2000, already has experience playing in England after two years with Stoke City before moving to Slovakian side Cered in 2020. He arrived from Bosnia-Herzegovina side Sarajevo on a free transfer and made two appearances in the UEFA Europa League qualifiers at the beginning of the 2021/22 season.
The young goalkeeper was born in Austria, but eventually chose to play for the Bosnia and Herzegovina national team. The player will play for Nottingham Forest U21, but will always train with the first team.
Welcome to Nottingham Forest, Adnan! (End of announcement)
This is Nottingham Forest's 23rd new recruit this summer. Nottingham Forest is currently 19th in the table with 4 points from 1 win, 1 draw and 5 losses after 7 games in the EPL this season.
Mourinho banned for one match, no chance to lead team to Inter
It's official, Roma manager Jose Mourinho has been banned for one match and will not participate in the next round of Serie A against Inter Milan.
The Italian Court of Arbitration for Sport has announced that Mourinho has been banned for one game for entering the field of play in the 7th round of Serie A at home against Atalanta by means of a red card for violating the rules by abusing the opposing players.
This means Mourinho will not be on the sidelines in the 8th round of Serie A, which will be played against his old team Inter Milan.
Di Maria banned for two games, no match against Bologna and Milan
It's official, Di Maria, who was sent off in Juventus' match against Monza, has been banned for two matches.
In the 7th round of Serie A away to Monza, Di Maria was red carded for elbowing an opponent, an act that was deemed violent by the Italian Court of Arbitration for Sport, and Di Maria was banned for two matches as a result.
In this case, Di Maria will not play against Bologna in the 8th round of Serie A and Milan in the 9th round.
Lewandowski is honored to wear the captain's armband in the colors of the Ukrainian flag for the World Cup
Lewandowski took a photo with Shevchenko and said he was honored to wear the captain's armband in the colors of the Ukrainian flag for the World Cup.
Today Ukrainian star Shevchenko handed the captain's armband in the colors of the Ukrainian flag to Polish captain Lewandowski and asked him to take it to the World Cup. This is a token of appreciation for the Polish captain's support to Ukraine after the Russia-Ukraine conflict.
On his personal social media, Lewandowski posted a photo with Shevchenko and posted: "Thank you Shevchenko. It's great to see you! I'm honored to carry this captain's armband in the colors of the Ukrainian flag to the World Cup."
Russia will not participate in the Euro 2024 qualifying draw due to UEFA ban
It's official, the Russian national team will not participate in the group draw for the Euro 2024 qualifiers.
The Russian Football Federation said this was due to UEFA's decision in February to suspend the Russian national team and clubs from competitions under the UEFA umbrella, by default "until further notice".
The suspension follows a joint ban by UEFA and FIFA over the Russia-Ukraine conflict.
FIFA: Honduran player Quaye doped in World Cup qualifier, banned for 18 months
FIFA (Fédération Internationale de Football Association) issued an official announcement that Honduran player Quaye will be banned for 18 months for violating FIFA anti-doping regulations during the World Cup qualifying tournament.
FIFA (Fédération Internationale de Football Association) has released an official announcement on its website: 24-year-old Quaye from Honduras tested positive for clostebol after a FIFA 2022 World Cup™ qualifier in Qatar on February 2, 2022. It is also a prohibited substance under the FIFA Anti-Doping Code.
The sanction was imposed after the player admitted the violation and an agreement was reached between the player, FIFA and WADA. As such, the sanction is final and binding.
As Quaye's suspension prior to the issuance of the decision has been counted towards the 18-month suspension period mentioned above, the player's suspension will last until August 1, 2023.
DAILY TELEGRAPH
Chelsea have sacked their commercial director Damian Willoughby over a series of "inappropriate messages" sent to football finance agent Catalina Kim that put a proposed multi-million pound investment project at risk.
Chelsea will re-open talks with candidates for the club's sporting director role this week with Bayer Leverkusen's Tim Steidten and Leeds United's Victor Orta understood to have been discussed.
The number of venues in England competing to host games at Euro 2028 has been cut to 10 with the likes of Arsenal, Leeds United and Leicester City already ruled out.
THE SUN
Bayern Munich and France defender Benjamin Pavard has hinted he could be interested in a move to the Premier League where Chelsea and Manchester United are both keen.
Sven Botman has withdrawn from the Netherlands U21 squad because he wants to focus on securing a regular place in the Newcastle line-up.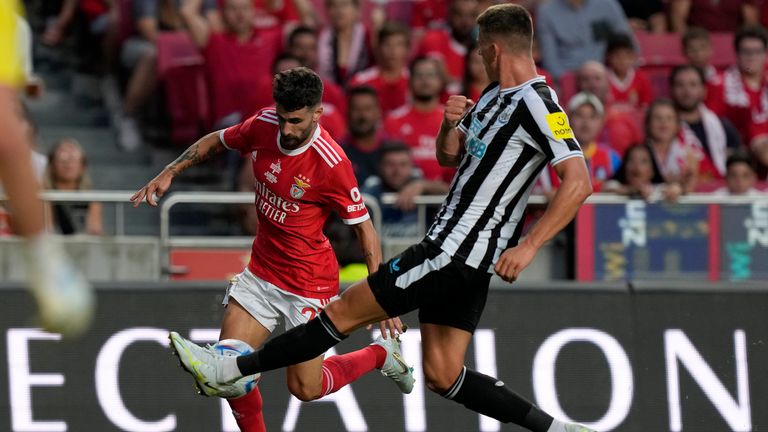 A football manager at the heart of a stunning blackmail case is being investigated by the Football Association after the trial collapsed last week when he refused to give evidence against those he had accused.
Aminata Diallo is alleged to have searched online for "how to break a kneecap" and "dangerous drug cocktail" before an attack was made against her former PSG team-mate Kheira Hamraoui.
Football supporters at the World Cup in Qatar will only be able to purchase non-alcoholic beer during and at half-time in matches during the winter tournament.
Brazil great Roberto Carlos has revealed he agreed to a move to Chelsea in 2007 and only had to sign the contract before the deal collapsed.
Former Chelsea youngster Miro Muheim has revealed he was dumped from the Hamburg team in comical fashion after spending too long on the toilet and arriving late for a training session.
James Rodriguez could be set for a tricky third reunion with Rafa Benitez who is being linked with a role at his new club Olympiakos.
THE TIMES
A leading sports official has spoken of an endemic culture of bribery and corruption in the Olympic movement, claiming he was involved in paying bribes to IOC members to secure Taekwondo's place in the Games.
Premier League clubs are embroiled in disputes over how much each team should contribute to extra cash destined for the EFL, with the big six wanting it split equally but smaller clubs wanting them to pay more because of their additional revenues from European competition.
Fifty LIV Golf players have written to the chairman of the Official World Golf Rankings asking for retrospective points and warning of a conflict of interests among the governors.
THE GUARDIAN
Former West Ham forward Andriy Yarmolenko has called on all sports governing bodies to follow football's example and ban Russia from competing internationally.
Migrant labourers in Qatar continue to suffer living in poor conditions just two months before the World Cup kicks off.
EVENING STANDARD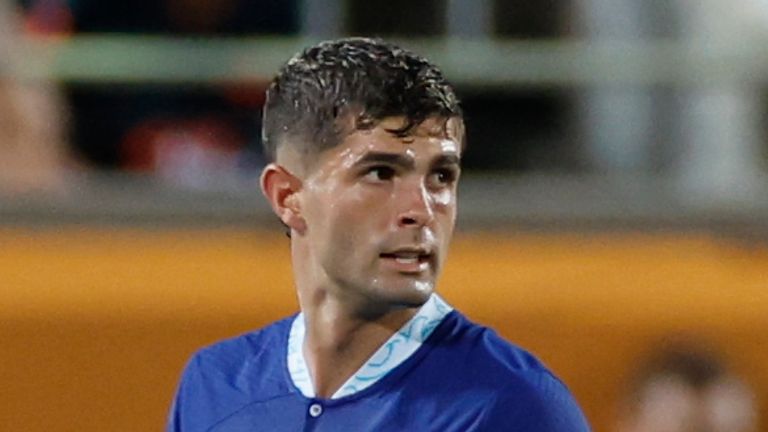 Christian Pulisic has revealed he was let down by former Chelsea boss Thomas Tuchel after being benched during the closing stages of their victorious Champions League campaign in 2020-21.
DAILY EXPRESS
Mauricio Pochettino wants Tottenham and France captain Hugo Lloris to be his first signing if he is confirmed as the new manager of Nice.
Bruno Fernandes has revealed he was "really angry" when a potential move to Tottenham fell through months before his eventual transfer to Manchester United was completed.
DAILY MIRROR
Tottenham and England defender Eric Dier is so worried about fan behaviour in English football that he has banned his mother from attending away games.
Lisandro Martinez and Cristian Romero have been left stranded in the UK because of delays to their visas for entry to the United States caused by the closure of the US Embassy during mourning for Queen Elizabeth II.
DAILY MAIL
Christian Eriksen has revealed he was disappointed to hear jeers from Brentford fans when he returned to the club with Manchester United earlier this season.
Former Barcelona defender Rafael Marquez is tipping Fernando Torres to have a managerial career after impressing him during a recent coaching course.
Fabio Cannavaro is set to take on his first job in Italy after agreeing to become the next head coach of Serie B side Benevento.
Memphis Depay insists he is enjoying life at Barcelona after rejecting the chance to join Chelsea over the summer.
The government is being accused of aiding the asset-stripping of crisis club Worcester Warriors after Sport England approved the transfer of ownership of their stadium to a new company which retains its income.
Love Island's Jacques O'Neill has been offered a route back into rugby league after being approached to represent his home county Cumbria when they face Jamaica in a World Cup warm-up next month.
DAILY STAR
Russia's former F1 driver Nikita Mazepin says he has no interest in racing under a neutral flag.