All the top stories and transfer rumours from Tuesday's national newspapers…
Mbappe's photoshoot protest leads French Federation to promise changes
Mbappe refused to attend the French national team's group photo shoot due to portrait rights issues, according to AFP.
French media reported that the French national team will take a group photo this Tuesday, but Mbappe refused to attend the event, still due to the issue of portrait rights.
The report reveals that the French national team group photo involves several major sponsors, including Uber Eats, KFC, Coca-Cola and others.
In March, Mbappe and other players did not participate in training as well as sponsorship activities at the Clairefontaine Training Center due to player portrait rights issues, as a protest against the portrait rights agreement between the national team and the French Football Federation. The president of the French Football Federation had previously held a meeting with Mbappe and other French players, and Mbappe's lawyer had said they would not give in on the issue
French Football Federation official: will soon revise the player portrait rights-related agreements
The French Football Federation officially announced that it will revise the agreement related to the portrait rights of players as soon as possible in order to protect the interests of all parties to maximize.
The official announcement of the French Football Federation
Following a successful discussion between the executives of the French Football Federation (FFF), the President, the national team coach and a marketing executive, the FFF has committed to revise the agreement on the portrait rights of its national team players as soon as possible.
The French Football Federation is pleased to be able to develop a framework for the agreement that protects its interests while taking into account the legitimate concerns and worries unanimously expressed by the players. (End of announcement)
Previously, Mbappe had made it clear that he refused to participate in the group photo of the national team due to portrait rights concerns.
Real Madrid will renew the contract with the Emirates, can earn 70 million euros a year
According to journalist Łukasz Bączek, Real Madrid will renew their contract with their chest advertising sponsor Emirates, which could amount to 70 million euros per year.
Łukasz Bączek, who belongs to Sportico, a media outlet that covers sports business, said that the new contract between Real Madrid and Emirates will be for three years, from the 23-24 season to the 25-26 season. The current 22-23 season is the same amount of sponsorship as the previous contract. The new contract can be considered as a 1+3 contract.
Meanwhile, the new sponsorship contract between Real Madrid and Emirates will be €70 million per year, with a bonus clause of €7 million if Real Madrid reaps the relevant title glory.
Emirates has been the sponsor of Real Madrid's chest advertising since the 2013-14 season and has been since.
Piqué clashed with Xavi in the dressing room last week in the Champions League
According to the Daily Sport, Gerard Piqué clashed with Xavi in the locker room last week because he was unhappy with the lack of playing time.
The report said that last Tuesday during the Champions League away match with Bayern, Xavi and Piqué clashed in the locker room, Piqué complained that he had too little playing time: "I didn't even have to participate in the rolling game" (jugar petanca: a rolling game, which Xavi would make the players play in training), Xavi When he heard that, he called him out in front of the whole team. Harvey's response is said to have been, "You're not going to do that either." The relationship between the two sides remains strained, per body.
Currently, Barca has newly signed centerbacks Christensen and Conde, as well as two young centerbacks, Eric Garcia and Araujo, which puts Pique last in the starting lineup and makes him the top paid player on the team (per body note: according to professional portal Capology, Pique's salary is 52 million euros per season), far more than De Jong and Busquets' 37 million This means that Piqué has finally become the most popular player in the Barcelona game. This means that Piqué has finally become a problem for Barça.
FC Barcelona acknowledges the existence of this problem because it is not beneficial on a competitive level or on a financial level. Therefore, the feeling that exists in the Barça office is not surprising: "Let's see if Pique keeps his word." Barça hopes that Piqué will be consistent with the statement he made and take steps to end his Barça career as soon as possible. Even if it means willingly serving as a substitute to make way for fresh blood.
Piqué has said in 2021: "We have hit rock bottom. If I need to leave to get fresh blood, I'll leave", "If Koeman told me tomorrow I had to leave, I'd leave soccer", "I won't play for any team but Barca", and "I will retire at Barca, but never as a substitute".
Collins waited for 25 minutes in the tunnel after the match to apologize to Grealish in person
According to the Mirror, in order to apologize to Grealish in person, Wolves defender Collins went into the player's tunnel and waited for 25 minutes after his team's Premier League match with Manchester City.
As a result of the flying kick to Glalish, Collins was red carded in the first half of the match between Wolves and Manchester City, and Glalish was subsequently treated by the team doctor.
It is reported that after the match between Wolves and Manchester City ended and both teams showered and changed clothes, Collins waited for Glalish in the player's tunnel, expressing his apologies, saying he didn't mean to do it, while stressing that he was going to fight for the ball.
The Mirror said that Glalish accepted Collins' apology, but the England attacker told his City teammates that Collins' vicious scramble was actually the one that caused his leg the most pain.
Collins faces a three-match suspension for the violent act against Glalish.
Manchester United will try to bring in Griezmann in January
According to ESPN, Manchester United are considering bringing in Griezmann in the winter window.
Griezmann could move in January next year if Barcelona and Atletico Madrid can't negotiate a buyout for Griezmann's loan period. According to ESPN, if that's the case, Manchester United will seize the opportunity to try again to bring in Griezmann, who they were interested in in the summer.
Griezmann only made 1 start for Atletico this season because Atletico didn't want to pay Barca a 40 million euro buyout fee. Media reports say that Manchester United is one of the EPL teams that will be looking at Griezmann's future.
Senegal international Keita Balde banned for two months
The Senegalese Football Federation (FSF) learned today that its international player Keita Balde has been suspended for two months. He currently plays for Spartak Moscow, a Russian Premier League club.
The decision by the Italian National Anti-Doping Tribunal comes after the player was suspected of violating doping control procedures while still playing for Serie A club Cagliari.
The Senegalese striker, who now plays for Spartak Moscow, is expected to serve a two-month suspension until Dec. 22, 2022.
Senegalese international Keita Balde has been banned by the Italian National Anti-Doping Tribunal until December 5, 2022, following an alleged doping control violation while playing for Cagliari.
Under the current disciplinary code, any doping-related sanction requested by another national sports association or football federation is automatically accepted by FIFA and must be endorsed by all member associations.
No banned substances were found in the samples taken from the player Keita Balde on the same day.
The Senegalese Football Federation (FSF), which has already spoken with the player, is closely monitoring the development and will inform the follow-up in consultation with its medical team.
As a result, the FSF has announced that the player will miss the national team training session in Orléans on September 19, 2022.
Van Dijk: Won't hold back at club for World Cup
The Netherlands will face Poland away in the UEFA Nations League, and captain Van Dijk said in an interview that he will not hold back at his club to play in the World Cup.

The center-back was unable to captain the Netherlands at Euro 2021 due to a knee injury, and despite his success on the club side, he has yet to play in a major tournament with the national team. He hopes to lead Van Gaal's side in Qatar and the 31-year-old is keen to play in the World Cup.
Van Dijk said in an interview, "I would love to go to the World Cup, but being prepared is not focused on not getting injured. I want to be able to keep playing, stay healthy and have a good time."
Liverpool's form has been up and down recently and lost 4-1 to Napoli in the Champions League group stage. Liverpool managers said it was the worst season of results in seven years.
Meanwhile, Van Dijk refuted any suggestion that Liverpool's poor start to the season was due to players thinking about playing in the World Cup: "We are not in that situation and I can assure you that is definitely not one of the reasons."
Jorginho offered himself to join Barca
but Barca is not considering bringing him in at the moment
According to Marca, Barcelona is not currently considering bringing in Chelsea midfielder Jorginho.
Recently, some media said that Barcelona is considering to bring in Jorginho, Marca said that the fact is that Jorginho proposed himself to join Barcelona, but Barcelona is not considering to bring in this one player at the moment. Jorginho's contract expires in the summer of 2023 and he will be a free agent at that time.
In addition, Marca said that if there is no accident Busquets will leave Barcelona next summer, Barca will look for a replacement, but not Jorginho.
Barca is considering bringing in Asensio
Barcelona are reportedly keeping a close eye on Real Madrid striker Asensio, considering bringing in the player.
One player Barca is considering signing in the future is Asensio. In addition to Asensio's ability, there are other factors that have Barca keeping a close eye on Asensio, namely his contract with Real Madrid expires next summer. Asensio is also not a Real Madrid starter this season, and may not renew his contract with Real Madrid.
It is understood that Barcelona will consider bringing in Asensio, which is due to Asensio's age, level and tactical adaptability. Asensio is currently 26 years old and Barca considers him a mature player while he still has a long career ahead of him. In addition, Asensio scored 12 goals last season to illustrate his strength.
In addition, there is another factor that should not be underestimated: the good relationship between the player's current agent Mendes and Barça president Laporta
Arsenal wants to buy Locatelli
According to Italian media "Evening Mail", Arsenal wants to bring in Juve midfielder Locatelli.
The Evening Post said that Locatelli is no longer a non-sale item for Juve. If the Italian international can't regain his form and win back Allegri's trust, he could be on the move at the end of the season.
Arsenal are interested in Locatelli and could take the Italian international if they can offer 40 million euros. This figure is considered to be the appropriate price.
Canavaro is close to reaching a coaching agreement with Serie B Benevento
According to Italian journalist Romano, former Guangzhou and Chinese men's soccer team manager Fabio Cannavaro is close to taking over Serie B side Benevento.
Canavaro, 49, has been idle since he left the Guangzhou job last September, but according to Romano, the former Ballon d'Or winner is ready to start his coaching career in Italy, and talks with Benevento are going well and an agreement is close to being reached.
Benevento is currently 13th in the Serie B table with 2 wins, 1 draw and 3 losses.
THE SUN
Manchester United are ready to make a January move for Benfica striker Goncalo Ramos, who was linked with Newcastle over the summer, and is also being tracked by Bayern Munich.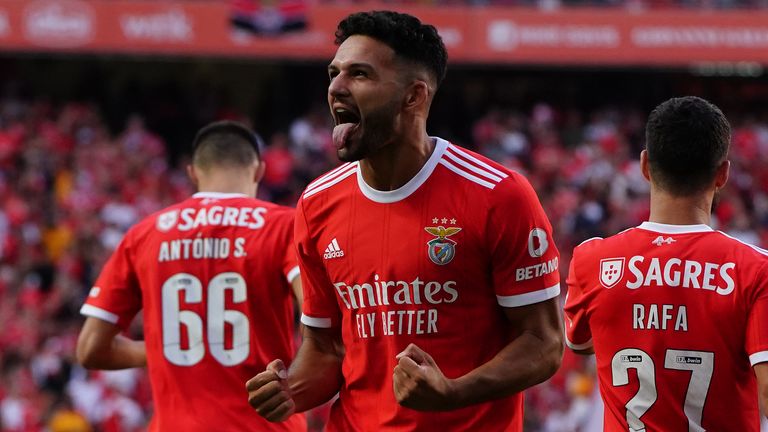 Barcelona are plotting a rare raid on Real Madrid as they will look to sign forward Marco Asensio when his contract expires at the end of the season.
DAILY TELEGRAPH
Leicester City's board are considering Brendan Rodgers' future at the club but compensation for him and a potential replacement could be an issue as they are also under pressure to reduce their cost base due to FFP regulations.
The CIES Football Observatory claims Manchester United have overspent by £209m on players since July 2012, ranking ahead of Juventus and PSG as the worst culprits in the transfer market.
The World Anti-Doping Agency is set to ban controversial high-strength painkiller tramadol following a series of harrowing stories about its addictive tendencies.
THE TIMES
Premier League clubs will insist on FA Cup third and fourth round replays being scrapped as part of plans to increase financial support flowing down to the lower levels of English football.
Captain Luke Donald is plotting narrowed fairways and long rough for next year's Ryder Cup in Italy to try and negate the United States' big-hitters.
DAILY STAR
Paul Pogba has revealed he was held at gunpoint by two men who demanded £11m from him in a July incident which has now seen five suspects detained, including his brother Mathias.
Mike Tyson has revealed an ongoing battle with nerve issue sciatica after recent concerns over footage which emerged of him being forced to use a wheelchair, and also causes him to be unable to talk.
THE GUARDIAN
Russia has urged UEFA to ban the manager of Ukraine, Oleksandr Petrakov, for not remaining politically impartial after he said he would like to fight Vladimir Putin's invading forces.
DAILY EXPRESS
Kylian Mbappe has forced the French Football Federation into an embarrassing climbdown in their dispute over image rights, with his failure to appear at a photo-shoot followed hours later by the FFF saying work was ongoing over a new agreement.
DAILY MAIL
Liverpool will make a further move for Real Madrid's young star Fede Valverde, potentially in January according to reports in Spain.
Brazilian wonderkid Joao Gomes says he has the "greatest desire" to play for Liverpool as rumours continue to swirl about the midfielder leaving Flamengo for the Premier League.
Marcus Rashford is "hopeful" he will be back to full fitness in time for Manchester United's derby clash with City on October 2.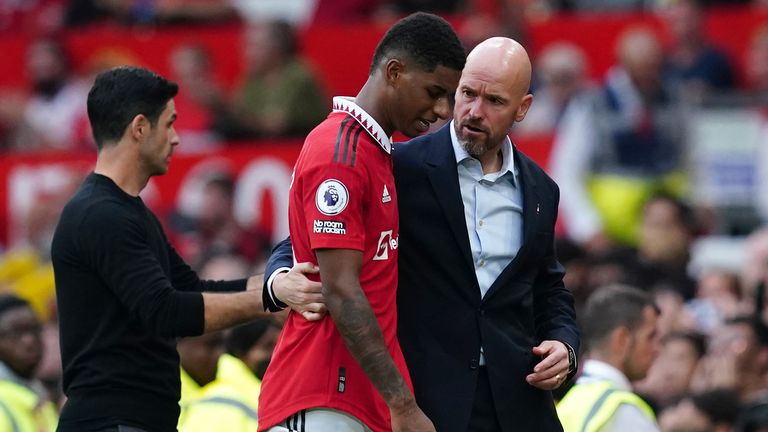 Bruno Guimaraes has paid tribute to Newcastle boss Eddie Howe, claiming he has turned "water into wine" since his arrival at St James' Park.
Udinese midfielder Tolgay Arslan's house was robbed of £10,000 worth of items while he was scoring for his side in their Serie A win over Inter Milan.
Nyck de Vries has confirmed holding talks with Red Bull chief Helmut Marko over his future in F1.
DAILY RECORD
Maccabi Tel Aviv owner Mitchell Goldhar has confessed young star Oscar Gloukh, a reported Celtic target, could be on his way out of the club in January after talks with the player's camp.
Celtic loanee Vassilis Barkas has revealed he is loving life at FC Utrecht after getting a chance to reignite his international career with a recall to the Greece squad.