All the top stories and transfer rumours from Monday's national newspapers…
Vinicius updates social media to mock Atletico Madrid
And liked the message "Atletico Madrid lost the Champions League final in a row
Real Madrid beat Atletico Madrid 2-1 in the Madrid derby and Vinicius mocked his opponent on social media after the match.
Real Madrid once again laughed at the Madrid derby and Vinicius posted after the match saying, "Everything is still the same."
A fan wrote that Atletico lost back-to-back finals, and Vinicius posted, "It's all about losing to us Real Madrid."
Another fan replied to Vinicius: "They cried in Lisbon (Atletico lost the Champions League final in 2014) and they cried in Milan (Atletico lost the Champions League final in 2016)." Vinicius liked the dynamic.
Juve Considering Allegri's Position
According to a report from La Gazzetta dello Sport's Fabiana Della Valle, Juventus are currently considering Allegri for the managerial position, but they are unlikely to make a decision to change the manager right away.
Juve lost 0-1 away to Monza in the 7th round of Serie A. They have now suffered a 5-game winless streak in Serie A and the Champions League after not winning a single match at the bottom of the table.
According to Italian journalist Fabiana, never before have all parties within Juve been so estranged as they are now, with the players frustrated and Allegri confused about the team's situation. After the game yesterday, Allegri arrived at the team bus only after being escorted by security personnel, and his face was very ugly at that time.
In addition this journalist reporter also said that the relationship between Allegri and Di Maria has also broken down, with the latter unhappy with the club's handling of his physical injury.
Finally, Fabiana's report still points out that Juve's doubts about Allegri's position are increasing and they are considering the Italian coach's position, but they will more than likely wait until the end of the year during the World Cup to make a decision, Juve's management wants to determine whether they can enter the knockout rounds of the Champions League first, and for now, a change of manager is unlikely to happen.
Inter are in talks with Chelsea to re-sign Romelu Lukaku on loan at the end of the season for another year for €8m.
Di Marzio sources say that Lukaku has no possibility of returning to Chelsea next summer, the player did his best this summer to ensure a return to Inter.
Di Marzio said, "At first I didn't think Marina would let Lukaku return to Inter, I think they would have kept him or at least not let him return to Inter on loan, but the situation the club went through contributed to the deal.
"I really don't think Lukaku will come back to Chelsea, how could he be back in a Chelsea shirt? He has done everything he can to ensure he returns to Inter. I think a solution will be found between the two clubs. The more likely point is to continue the loan. Inter have already paid 8 million euros for him and will probably support another 10 million euros next summer as a way to renew the loan. If they decide to buy out Lukaku, then the transfer fee will go down a lot."
With 672 goals, Messi has scored more non-penalty goals than Ronaldo in his career, playing 145 fewer games
After scoring one goal against Lyon, Messi has scored 672 non-penalty goals in his career, surpassing Ronaldo.
So far, Messi has scored 775 goals in 985 career appearances, while Ronaldo has scored 816 goals in 1,130 appearances.
Messi has scored 103 penalty kicks, while Ronaldo has scored 145 penalty kicks, and Messi has scored 672 penalty kicks, while Ronaldo has scored 671.
Reinkele wrote: "Messi scored 672 non-penalty goals more than Ronaldo, but less than 150 games, the data of these two people is crazy."
Reus will miss 3 weeks with ankle ligament injury, can make it to the World Cup
Dott's sports director Kyle said that Reus, who was injured in the Ruhr derby, was diagnosed with an ankle ligament injury and will miss 3 to 4 weeks, but can make it to the World Cup.
In the previous Ruhr derby against Schalke 04, Reus injured his ankle during a confrontation in the first half and was later carried off the field on a stretcher.
Reus' injury was updated today by Dott Sporting Director Kyle, who said, "At first this was a shock for all of us, but now I can clarify that the examination we did yesterday showed that Reus did not have a broken ankle."
"After diagnosing Reus with a lateral ankle ligament injury, he will miss three to four weeks, but it will not affect his World Cup appearance."
Dortmund's next match will be against Cologne in 2 weeks at 21:30 on October 1, followed by 2 Champions League clashes with Sevilla on October 6 and October 12 respectively, while they will also play the German national derby against Bayern on October 9.
Manchester United suffered food poisoning after the UEFA Cup, 12 people felt sick
The entire Manchester United squad reportedly suffered food poisoning the day after their UEFA Cup match against Sheriff Tiraspol.
Exclusive information from The Sun says that United's players and staff suffered suspected food poisoning after returning to England from Moldova. They beat Sheriff Tiraspol 2-0 away last Thursday and returned on a private jet straight away that night, but the players began to feel ill on Friday. It is understood that up to 12 people in the United party were affected and the club is trying to investigate whether they ate anything in Chisinau or on the return flight.
A handful of players missed Friday's training because of this, but they did participate on Saturday, while others simply missed Saturday's training all together. Luckily, United's match against Leeds United in the 8th round of the EPL was postponed, otherwise they would have been seriously affected by this situation.
Brighton official: De Zerbi replaces Porter as the new manager of the team
Brighton has officially announced that Italian coach De Zerbi has become the new manager of the team, replacing Porter who left for Chelsea.
De Zerbi is 43 years old and has coached Donetsk Miners, Sassuolo, Benevento and Palermo. He has signed a four-year contract with Brighton but is still waiting for the job formalities to be completed.
De Zerbi has arrived in England on Friday and watched a closed-door friendly match for Brighton.
Given that September 19 is the funeral of Queen Elizabeth II, Brighton will officially host a meet and greet for De Zerby on Tuesday local time.
At 15 years and 181 days, Arsenal youngster Nwaneri breaks the record for youngest appearance in Premier League history
Arsenal 15-year-old Nwaneri came on as a substitute in the match against Brentford, breaking the record for the youngest appearance in the history of the Premier League.
In the 92nd minute of the match, 15-year-old 181-day-old Nwaneri made his Premier League debut as a substitute, breaking the record for the youngest appearance in Premier League history held by Elliott (Fulham, 16 years and 30 days).
Bayern Munich in crisis, some players no longer support Nagelsmann
In this round of Bundesliga matches, Bayern Munich lost 0-1 away to Augsburg, and did not win in 4 consecutive rounds in the league. The German soccer media "kicker" news said that after this round of league defeat, Bayern Munich is in crisis, some players no longer support the manager Nagelsmann.
According to Kicker, Bayern is in a crisis, with some players no longer supporting manager Nagelsmann. The team is questioning Nagelsmann more and more. Nagelsmann has been criticized for his management and communication style and certain aspects of his behavior.
Lewan left this summer and reports say he was one of the players in the Bayern squad who had the biggest opinions of Nagelsmann. However with the departure of Lewan, Bayern now lacks a high center forward and this issue is now being discussed within the squad. Bayern hope to solve the problem of high center forward when the winter transfer window opens.
Arsenal 3-0 Brentford | Highlights
In the 8th round of the EPL, Arsenal faced Brentford on the road. In the first half, Saliba broke the deadlock by hitting the net with a header against the post, and Jesus also scored with a header after receiving a pass from Zaka; at the beginning of the second half, Vieira scored a world wave, which was also his first goal after joining, and both goalkeepers contributed wonderful saves, and 15-year-old youngster Nwaneri came on as a substitute, finally Arsenal won 3-0 away to Brentford.
Real Madrid 2-1 Atletico Madrid

The 6th round of La Liga ushered in the Madrid derby, Atletico Madrid was at home in the Civitas Metropolitan Stadium to face Real Madrid, the referee for this game was Munueira Montero. In the first half, Tchouameni's delicate pick assisted Rodrygo to break the dance; then Vinicius stabbed the post from a small angle and Federico Valverde followed up to add a goal, scoring for the third consecutive match. In the second half, El Morso came on as a substitute and grabbed Courtois' strike mistake to pull one back for Atletico Madrid before being sent off with two yellow cards in a row. In the end, Real Madrid beat Atletico Madrid 2-1 away from home, and won 9 consecutive matches in all competitions to start the season.
Udinese 3-1 Inter | Highlights
In the 7th round of Serie A, Inter Milan faced Udinese on the road. In the first half, Barrera opened the game with a free kick, Skriniar scored an own goal and Bastoni hit the post with a shot from inside the box. In the second half, Dzeko's goal was blown, Deulofeu's low shot hit the post, Bijol's header reversed the score, and Arslan sealed the victory. Finally, Udinese 3-1 Inter Milan.
Juve 0-1 Monza | Highlights

In the 7th round of Serie A, Juventus faced Monza away from home. The referee of the match was Fabio Maresca. In the first half, Ciurria's long-range shot missed, Sensi's long-range shot was confiscated by the goalkeeper and Di Maria dyed red. In the second half, Caprari's long-range shot was deflected and Gytkaer scored in front of the goal. In the end, Juve defeated Monza 0-1 for 3 rounds without winning in the league, and Monza won the first league match.
Napoli 2-1 Milan | Highlights

A big match in the 7th round of Serie A was played at San Siro, AC Milan played against Napoli, the referee on duty for the match was Mariani. In the first half, Giroud's shot was parried by the goalkeeper before hitting the crossbar and bouncing out. Then, Krunic's threatening header was parried. In the second half, Dest kicked down Kvaracshelia in the box and the referee awarded a penalty by watching VAR, which Politano hit. Giroud then equalized the score. Mario Rui assisted Simone to head the goal and Kalulu's shot hit the crossbar and bounced out. At the end of the match, Napoli defeated AC Milan 2-1 away from home, winning 5 consecutive matches, giving Milan their first defeat in the new league season and topping the table.
PSG 1-0 Lyon | Highlights

In the 8th round of Ligue 1, Paris Saint-Germain faced Lyon away from home. The referee of the match was Letchshire. In the first half, Neymar assisted Messi to push through the goal, Fabian added a shot high, Lacazette attacked the top of the goal and Neymar's long-range shot from outside was parried. In the second half, Messi's shot was cleared by Lukeba's goal line, Neymar pushed his shot from close range and Messi's shot was punched out by the goalkeeper, finally, Paris 1-0 Lyon.
Roma 0-1 Atalanta | Highlights

In the 7th round of Serie A, Roma hosted Atalanta. During the pre-match warm-up, Dybala was injured and Matic came into the starting lineup. In the first half, Musso and Demiral collided with each other and got injured. Sportiello came on as a substitute, then Scalvini pushed the goal from the top of the box and Atalanta took the lead, then Abraham missed one chance after another. In the second half, Zaniolo and Okoli fell to the ground, the referee called an offensive foul, Mourinho argued with the referee to eat red, then Abraham key clearance, then Pellegrini, Abraham shot one after another to create danger, the game was close to the end of Xiao Murodov header slightly deflected, long shot slipped through the door. The match ended with Roma 0-1 Atalanta.
THE GUARDIAN
Chelsea are closing on an agreement with Red Bull Salzburg sporting director Christoph Freund to take up a similar role at Stamford Bridge under new boss Graham Potter.
Wolves defender Nathan Collins waited after Saturday's red card for a horror tackle on Jack Grealish to apologise to the Manchester City and England star.
THE SUN
A total of 12 Manchester United players returned from the Europa League trip to face Sheriff Tiraspol in Moldova with a reported case of food poisoning.
Leicester City could face a bill of up to £10m if they decide to sack Brendan Rodgers with Brentford's Thomas Frank a likely candidate to replace him along with former Burnley boss Sean Dyche.
Angel Di Maria issued an apology to Juventus fans after he was sent off during their shock defeat to Serie A minnows Monza on Sunday.
Marcos Rojo was handed an additional suspension for his red card during Boca Juniors' clash with River Plate last week, with a one-match playing ban supplemented by authorities banning him from captaining his club for a month.
Barcelona are set to revert to a badge they used in the 1970s from next season.
Wayne Rooney has admitted life at DC United is "boring" without wife Coleen and his children being in Washington alongside him.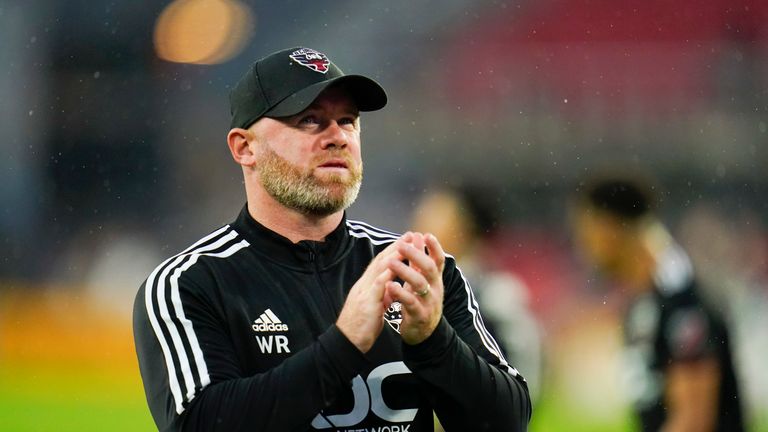 DAILY MIRROR
Charlie Savage impressed Manchester United boss Erik ten Hag during a U21 game on Friday night and was asked to train with the first-team squad the following day.
DAILY MAIL
Antoine Griezmann finally started for Atletico Madrid on Sunday night against rivals Real amid reports that a cut-price £22m deal with Barcelona had been agreed to bring an end to him having to come off the bench to avoid a £35m clause in his loan contract.
Furious Juventus fans called for Thomas Tuchel to become their new head coach after turning on Max Allegri during the surprise defeat by Monza.
Oliver Kahn has dismissed talk that Bayern Munich are considering removing Julian Nagelsmann as head coach after their winless run was extended to four games and led to talk that Thomas Tuchel might be approached to take over.
Arthur Melo has asked to play for Liverpool's U21 side in a bid to get up to speed and secure more of a role in Jurgen Klopp's Premier League line-up after the international break.
Nyck De Vries is close to being rewarded for his point-scoring Formula One debut but his first full-time drive could come with Alpha Tauri, not Williams.
DAILY TELEGRAPH
England leg-spinners Archie Lenham and Rehan Ahmed have signed up to play in the Pakistan Junior League, the first Twenty20 franchise league for U19 players.