All the top stories and transfer rumours from Thursday's national newspapers…
Chelsea in shock Neymar swoop
Chelsea are considering a whistle-stop signing of Paris star Neymar before the summer window closes, according to the Daily Mail.
The Mail used the term "incredible deal" to describe Chelsea's potential deal to bring in Neymar, reporting that Chelsea have explored the possibility of signing Neymar and that team boss Burley is ready to continue to satisfy Tuchel's idea of strengthening his squad before the summer window closes.
The Post said Paris may consider sacrificing Neymar or Messi to avoid being penalized by UEFA's financial fairness policy after renewing Mbappe's contract at £650,000 a week.
Chelsea £10m plus Alonso offer for Aubameyang
According to the latest news from well-known transfer expert Romano, Chelsea and Barcelona are discussing the latest offer for Aubameyang, £10 million plus Marcos Alonso.
"The latest progress is being made in the Aubameyang negotiations, with both sides working towards a comprehensive agreement and Chelsea's latest offer: £10 million plus Alonso." Romano said.
In addition, he said that the two sides are confident that the deal will be completed before the deadline.
Bernardo Silva confirmed to stay in the team
After the match with Nottingham Forest, Manchester City midfielder Bernardo Silva confirmed to stay in the team.
Bernardo Silva was linked with Barcelona and Paris this summer.
After today's match with Nottingham Forest, Bernardo Silva confirmed that he will stay, saying in an interview: "I have not received any offers. I will stay in Manchester and I am happy that the decision has been made.
Manchester City 6-0 Nottingham Forest | Highlight
Manchester City hosted Nottingham Forest. In the first half, Foden assisted Haaland to break the deadlock, then City played a fine match in front of the field, Haaland finished the end and scored another goal, Stones scored a goal invalidated for offside, Stones assisted Haaland to finish the hat trick with a header; in the second half, Bernardo Silva assisted Cancelo to shoot from far away, Mahrez assisted Alvarez to score his first goal in the Premier League, and Alvarez added a shot before the end of the game Alvarez scored a second goal before the end of the match, and finally, Manchester City scored 6-0 against Nottingham Forest.
Liverpool 2-1 Newcastle | Highlights on the official accounts of Liverpool and Newcastle
Liverpool faced Newcastle United at home at Anfield with Andre Marriner as the referee. In the first half, Luis Diaz missed an open goal; then Isaac scored on his debut with a shot. In the second half, Isaac scored a goal for offside, and Salah assisted Firmino to push the equalizer, and then assisted Fabio Carvalho to shoot from above in the 98th minute to kill the game. In the end, Liverpool turned back Newcastle 2-1 at home, winning their first match of the season and sending them to their first loss of the season.
Arsenal 2-1 Aston Villa | Highlights
A marquee match in the 5th round of the EPL was played at the Emirates Stadium between leaders Arsenal and visiting Aston Villa at home, with the match officiated by Robert Jones. The first half was a fast-paced affair, with Villa threatening on the counter-attack and Buendia shooting over the bar from the middle of the box. Arsenal then launched a series of attacks, with Jesus and Gabriel threatening Villa's goal, before Saka kicked wide in front of an open goal. Finally Jesus broke the deadlock with a shot from an attack. In the second half, a free kick was parried and Luis scored the equalizer from a corner. Saka then assisted Martinelli to quickly go back in front. Finally Arsenal beat Aston Villa 2-1 to start the new season with five consecutive wins and continue to lead the EPL.
Tottenham Hotspur 1-1 West Ham United | Highlights
West Ham United v Tottenham Hotspur with Peter as the referee on duty. In the first half, Kane's header hit Cresswell's arm and the referee initially awarded a penalty, but after watching a long VAR the penalty was cancelled. Antonio then hit the post with a shot. Kane's pass caused an own goal by Correll. In the second half, Antonio assisted Saucek to equalize the score. The match ended with Tottenham Hotspur drawing 1-1 away to West Ham United.
Paris 3-0 Toulouse | Highlights
Paris Saint-Germain was away to Toulouse and the referee for the match was Ben El-Hajj. In the first half, Messi pushed a shot wide, Donnarumma made a save and Neymar broke the deadlock. In the second half, Messi assisted Mbappe to break through the goal, Vitinia's long-range shot was parried, Mbappe missed a single shot, and Bernat added a shot to the goal.
Juve 2-0 Spezia | Highlights
Juventus faced Spezia at home in Turin Allianz Stadium with Colombo as the referee. In the first half, Vlahovic scored from a fre kick, Bastoni's long-range shot was blocked and Szczesny retired injured. In the second half, Vlahovic's header was parried and Milik was on the bench, finally, Juve 2-0 Spezia.
Goalkeeper Lloris's tenth anniversary at Tottenham
On the occasion of the tenth anniversary of Maurizio Lloris's arrival at Tottenham, Tottenham Hotspur has taken stock of the French international goalkeeper's statistics.
Hugo Lowry first arrived at our old training center, Spurs Lodge, on August 31, 2012, the night we announced the signing of the French international from Lyon,' the Spurs official wrote. Lowry was 25 years old at the time and faced direct competition from experienced goalkeepers Friedel and Cudicini.
Ten years on, Lowry is now in the top ten in Spurs' history with 420 appearances in all competitions, has captained the club since 2014, led us to the Champions League final and holds our record for appearances in the Premier League (340 as of today). He is also one of only 13 goalkeepers to have kept more than 100 shutouts in the Premier League (122 as of now).
Lloris, who led the French national team to the 2018 World Cup title, is just three games away from overtaking Thuram (142) for the most appearances in French team history.
Lloris's productivity and desire to fight is unwavering, and at 35 years old, you could say he's getting better and better – no wonder some of his teammates call him 'Benjamin' after Brad Pitt's character in the movie 'The Curious Case of Benjamin Button. '.
So now kick off the next 10 years, Hugo!'
Alvarez: I was worried before coming to Manchester City but my coach and teammates gave me a lot of help
In the 5th round of the English Premier League, Manchester City beat Nottingham Forest 6-0. Manchester City striker Alvarez completed his second goal, and he was interviewed by the media after the match.
Alvarez said: 'Yes, I am very happy because of my goal, but also because the team won and the fans at the Etihad Stadium. I always try to help the team in any way I can and I gave my best self and I'm very happy.'
'I was a bit worried before coming to Manchester City because it was a different world for me, but the coaching staff and my teammates helped me tremendously and now I feel very happy and comfortable.'
Haaland becomes the first person to score three goals in a row in the EPL in the past five years and the seventh person in history
In the 5th round of the EPL, Manchester City defeated Nottingham Forest 6-0, with Manchester City striker Haaland scoring a hat-trick. According to statistics, Haaland became the seventh player in the history of the EPL to score three caps in consecutive matches.
Haaland has scored 9 goals in the first 5 rounds of the EPL this season, including three goals in the last 2 games in a row
Statistically, Haaland became the first player to score three goals in consecutive games in the EPL since Kane in December 2017, and the seventh player in EPL history to score at least three goals in two consecutive games.
98th minute strike, Carvalho scores Liverpool's latest EPL goal in nearly 11 years
Fabio Carvalho scored Liverpool's latest goal in the Premier League in the last 11 years after a 98th minute strike.
In the 98th minute of the match, Liverpool scored a 2-1 shutout over Newcastle through a corner kick opportunity completed by junior Fabio Carvalho.
According to statistics, Carvalho, who celebrated his 20th birthday a day ago, became the youngest player in Liverpool's history to score the winning goal after the 90th minute in the Premier League.
In addition, it was also the latest goal scored by Liverpool in the Premier League since April 2011 (Kuyt, 102nd minute, vs. Arsenal).
Dest to join Milan on loan, with a buyout option of 20 million euros
Here we go! Renowned soccer journalist Romano confirmed that Barcelona defender Dest will join Milan on loan.
Romano said: "Dest joins Milan, Here we go and confirmed! A full agreement has been reached and the loan deal comes with an optional buyout clause of 20 million euros."
The journalist said Dest will sign with Milan until 2027, a one-year loan plus a potential four-year contract. dest will fly to Milan on Thursday morning to sign.
Dest, 21, has an original contract with Barca that expires in 2025.
DAILY TELEGRAPH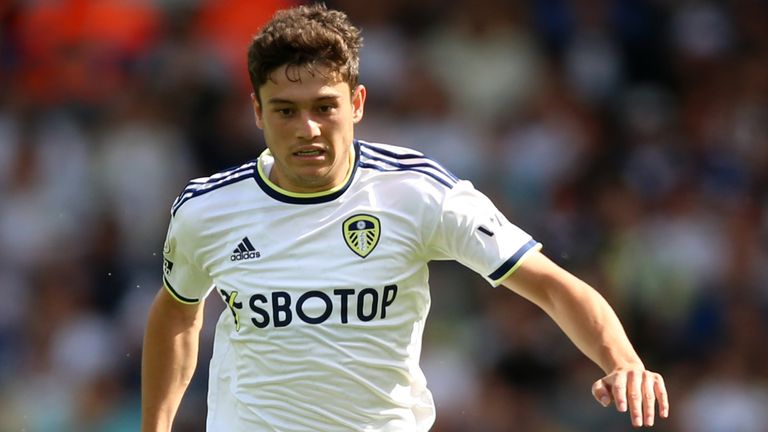 Tottenham will renew their interest in Leeds United winger Dan James after being told by Atletico Madrid that Yannick Carrasco will not be allowed to leave this summer.
Southampton hope to be able to complete as many as four transfers on deadline day, with Cody Gakpo, Ainsley Maitland-Niles and Man City youngsters Samuel Edozie and Juan Larios all on their radar.
Billy Gilmour has been told he is no longer part of Thomas Tuchel's plans at Chelsea bringing a move to Brighton closer and closer.
Snooker is the latest sport to become embroiled in a transgender row after British player Jamie Wright faced calls from tour rivals to be banned following a breakthrough success in the US Women's Open.
THE SUN
Arsenal are reportedly braced for interest in Gabriel Martinelli from AC Milan if the Serie A side sell Rafael Leao to London rivals Chelsea.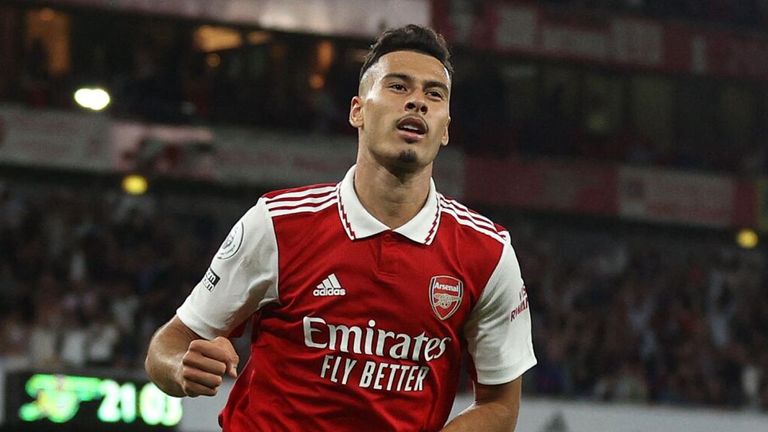 Chelsea are lining up a late move to sign Porto striker Mehdi Taremi, the player who stunned them with a Puskas Award-nominated bicycle kick last year, according to reports in Portugal.
Arsenal and Chelsea are waiting in the wings for Douglas Luiz to make a call on his Aston Villa future, with the Midlands club still hoping he will sign a new contract.
Anthony Joshua is set to kick off a worldwide tour with heavyweight dates being talked about in Beijing, Australia and the United States.
DAILY MAIL
Arsenal are exploring a move for Palmeiras midfielder Danilo with Mikel Arteta needing depth in midfield because of injuries to Thomas Partey and Mohamed Elneny.
Atalanta winger Jeremie Boga has emerged as a deadline day target for Leicester City, whose Dennis Praet is set to leave for Torino.
Mohammed Kudus reportedly failed to show up for Ajax training on Tuesday as he looks to force through a move to Everton.
Lucas Ocampos was left in mid-air limbo when Ajax changed their mind on signing the Sevilla winger during his flight to Amsterdam and instead asked for a loan deal after sending him back to Spain.
Leeds United face an anxious wait over Rodrigo's dislocated shoulder and results of a scan could be the decision-maker on whether Jesse Marsch seeks to bring in a striker on Thursday.
THE TIMES
Chelsea are in talks with AC Milan over a deadline day move for forward Rafael Leao after being told PSG were not ready to let Neymar leave despite his tensions with team-mate Kylian Mbappe.
THE ATHLETIC
Brentford are ready to make a club-record £26m offer for Shakhtar Donetsk winger Mykhaylo Mudryk, who had appeared to be on the verge of a move to Arsenal.
West Ham are close to agreeing a deal for Southampton defender Jan Bednarek.
EVENING STANDARD
Chelsea's hopes of adding Dinamo Moscow starlet Arsen Zakharyan to their youth ranks look set to be thwarted by continuing sanctions on the Russian economy.
THE SCOTTISH SUN
Louis Moult could be heading back to Scotland, with the former Motherwell – and current Preston North End – striker interesting Edinburgh rivals Hibernian and Hearts.
Leeds United are keeping tabs on Rangers winger Ryan Kent just in case Dan James leaves Elland Road for Premier League rivals Tottenham.
Duncan Ferguson is among the early front-runners to take over from Jack Ross as Dundee United manager.