All the top stories and transfer rumours from Wednesday's national newspapers…
Saka hints he is close to signing new Arsenal contract
Saka is negotiating a contract extension with Arsenal, the Independent source said, and the England striker said he believes he can reach an agreement soon.
Arteta, speaking about Saka earlier this month, had expressed his belief that they could reach an agreement with each other to complete the contract extension. Sacha, who currently has two years left on his deal, said, "Yes, I have the same belief as Arteta. I really feel the love from my teammates, coaches and fans, so, yes, I feel the love here.
'I feel that Arteta is always there for me and he knows when to communicate with me, not too often, not too little. He gave me some different advice, which was all very special and played a big role. I feel like I'm still in the growth phase and getting better with each game.'
'There are still some aspects of the game that I need to improve and improve on, every game I'm learning which position to be in to perform better, where I can score, why I'm not getting a certain number of shots and crosses, etc. I'm watching and reflecting on my game and trying to improve as long as we can win, no matter who scores. . I'm very happy.'
Manchester City close to signing Dottish center-back Akanji for €17.5 million
According to TA news, Manchester City are close to signing Dottes center back Akanji for a transfer fee of €17.5 million.
The 27-year-old Akanji's contract with Dottes will expire next summer, and he reportedly will not renew his contract with Dottes, who have also been seeking to sell Akanji this summer. Akanji has yet to make an appearance for Dortmund this season.
At present, Manchester City's first-team central defenders only have four players, Diaz, Stones, Ake and Laporte, with Laporte yet to return and Ake suffering from injury.
Chelsea 1-2 Southampton | Highlights
Chelsea visited St. Mary's Stadium to challenge Southampton, the referee was Michael Oliver. In the first half, Sterling scored the first goal in a row; then Lavia and Adam Armstrong scored one after another, and the Saints scored two goals in a row to reverse the score. In the second half, Thiago Silva's goal line scorpion swing saved the game, and Broya's header was parried. In the end, Chelsea lost 1-2 away to Southampton and suffered two consecutive away defeats.
Fulham 2-1 Brighton | Highlights
Fulham hosted Brighton at Craven Cottage with Thomas Bramall as the referee for this match. In the first half, Robert Sanchez made a save. In the second half, Mitrovic scored three times in a row and Dunk scored an own goal to give Fulham a 2-0 lead; then Alexis McAllister scored an equalizer. In the end, Fulham sent Brighton to their first loss of the season 2-1 at home.
Crystal Palace 1-1 Brentford | Highlights
Crystal Palace faced Brentford at Selhurst Park with Darren as the referee on duty. In the first half, both teams had nothing to show for their efforts. In the second half, Oliseh hit the post with a shot. Zaha scored with his own effort. Before the end, substitute Vesa finished the match with an equalizer. The match ended with Crystal Palace 1-1 Brentford.
AC Milan 0-0 Sassuolo | Highlights
In the second half, the two sides failed to create much of a threat, with Berardi and Florenzi leaving the field with injuries. In the end, the two sides exchanged blanks, AC Milan 0-0 Sassuolo.
Roma 3-0 Monza | Highlights
Roma faced Monza at the Stadio Olimpico with Piccinini as the referee on duty. In the first half, Dybala scored his first goal near the midfield. The Argentine then added another goal in front of the goal, before Koumbra was replaced by Smalling with an injury. In the second half, Ibanez scored from a corner kick to seal the victory, and Belotti made his Roma debut as a substitute. Before the end of the match, Xavi also suffered an injury and left the field early. At the end of the match, Roma defeated Monza 3-0 and gave their opponents four consecutive losses in Serie A.
Inter 3-1 Cremonese | Highlights
Inter Milan hosted Cremonese and the referee of the match was Francesco Forno. In the first half, Di Marco missed a free kick, Correa added a shot, Çalhanoglu missed a shot and Barrera scored with a shot. In the second half, Dzeko shot high, Sanimagia shot high from a distance, Lautaro came on as a substitute and broke through, Okereke equalized a point, finally, Inter 3-1 Cremonese.
Paredes is about to join Juve
Paris Saint-Germain midfielder Paredes is about to join Juventus.
Romano says the two sides have reached a comprehensive verbal agreement, with the deal being a loan plus a possible mandatory buyout clause that could be triggered for a fixed transfer fee of 15 million euros and a floating bonus of 5 million euros."
Reports suggest that Paredes will undergo a medical examination with Juve on Wednesday local time, after which a signing will be arranged.
PSG close to sign Soler
Paris Saint-Germain will sign the Spanish international Soler.
The latest news from Romano says that Paris will sign Valencia midfielder Soler for a fixed transfer fee of 18 million euros and a floating amount of 3 million euros, and that the two clubs are close to an agreement.
Romano also revealed that Paris has prepared a five-year contract for Soler, the player Campos wants, while Paris has also finalized Fabian Ruiz.
Soler, 25 years old, is worth 50 million euros and has played 224 games for Valencia, scoring 36 goals.
Balotelli decided to leave Turkey for Swiss Sion
According to a report by Italian journalist Romano, Balotelli, who currently plays in the Turkish Super League for Sporting Demir, has decided to move to Swiss Super League side Sion.
According to Romano, Balotelli's journey at Dynamik Sport has ended and he has reached a comprehensive agreement with Sion. Although the two sides have not officially signed the contract, the Italian star sees Sion as his first choice for a transfer.
Romano also said that as far as he knows Balotelli will undergo a medical examination at Sion this morning local time.
Sunderland have held talks with Manchester United over the loan of Diallo Amade
Championship side Sunderland have held talks with Manchester United over the loan of Diallo Amade, according to a report from The Athletic.
Amadei Diallo joined United in January 2021, and Amad's transfer fee is reportedly €21 million, counting add-ons of up to €41 million (£37 million).
TA understands that Sunderland are interested in Amade, who doesn't seem to be in Tenhaag's plans yet. Amade has not appeared in any of United's matchday rosters so far this season.
United would like to loan him out again to get him meaningful playing time with another team. In addition, they believe that the coaching style of newly appointed Sunderland manager Tony Mowbray suits Amade's style of play.
Last season, Amadeh spent the winter window in January on loan at Rangers and made 13 appearances in all competitions, scoring three goals
Haller received the top scorer trophy at the Dutch Eredivisie awards ceremony
Borussia Dortmund striker Haller was presented with the top scorer trophy at last season's Dutch Eredivisie awards ceremony, and he choked up several times during his speech.
Haller, who made his first public appearance since his testicular tumor surgery, was presented with last season's top scorer trophy at the Dutch League Awards in Utrecht, where he scored 21 goals for Ajax last season.
I'm lucky to have a lot of people around me, my physiotherapist helps me every day and makes me feel good," Haller said. There are also people from Ajax and Dortmund who are helping."
When he looked at his wife, there were tears in his eyes: "Every day is not easy, but I feel good. It's something that can happen to anyone. I sometimes say I'm lucky. Because not everyone can endure these tough times. I'm surrounded by people. And like I said, everything is fine."
Anthony Gordon will stay at Everton
According to the latest report from Sky Sports, Anthony Gordon will not leave Everton this summer, despite getting the attention of Chelsea.
The report says that Everton have never considered selling Anthony Gordon and the club's hierarchy has been very adamant that they want to keep the 21-year-old in the team. Although Chelsea submitted 2 offers for the player, both of them were rejected by Everton.
Lampard also told the club's board that he does not want the player to leave. Everton is confident of signing a striker before the transfer window closes.
Gordon has scored 2 goals in 5 appearances this season and he is repaying the club's trust with his excellent performance.
DAILY MIRROR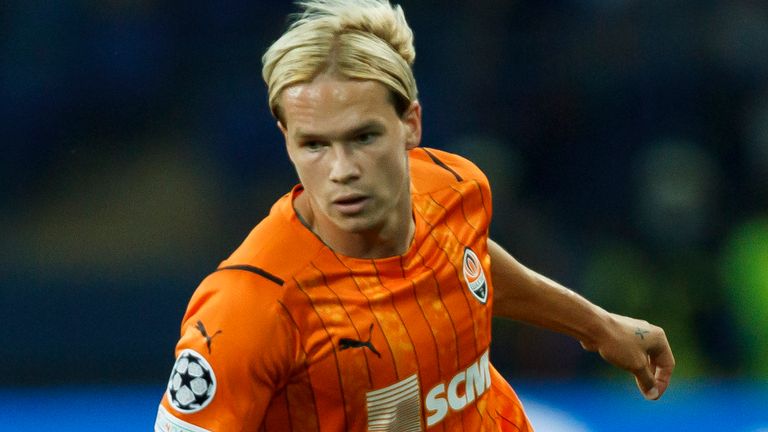 Mykhaylo Mudryk has liked a post on Instagram claiming Arsenal are interested in signing him before Thursday's transfer deadline.
Paul Pogba tried to pay £11 million to armed blackmailers but they had to settle for £85,000 due to his bank withdrawal limit, it is claimed.
Manchester United have fended off interest from top European clubs to tie down wonderkid Amir Ibragimov to a new contract.
Liverpool have been warned by Benfica boss Roger Schmidt that Enzo Fernandez will stay with the club for "a long time" despite interest from Anfield.
DAILY TELEGRAPH
Brendan Rodgers, the Leicester City manager, will receive only a third of the £70 million banked from Wesley Fofana's sale to Chelsea to spend on transfers.
Former champion Bianca Andreescu may have some awkward meetings with her sponsor Nike to look forward to after she blamed the brand for its poorly designed dress, which provoked her to make a wardrobe change during her US Open match.
Wasps' recruitment and retention freeze has been lifted in a sign that the Premiership club's financial situation may have improved.
THE SUN
Tyson Fury is training "like a man possessed" as he plots a sensational comeback fight against Oleksandr Usyk.
DAILY MAIL
Chelsea are attempting to steal a march on their rivals in the pursuit of RB Leipzig defender Josko Gvardiol, in a £77m deal which will see the Croatian loaned back to Germany for this season.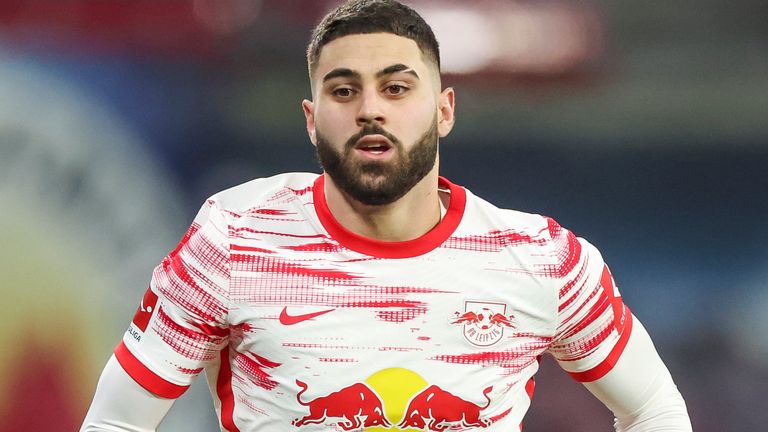 Scott Parker's sacking as Bournemouth head coach came after his relationship with chief executive Neill Blake and technical director Richard Hughes broke down due to his "public airing" of the club's dirty laundry almost on a weekly basis.
DAILY STAR
Jake Paul is set to face UFC legend Anderson Silva on October 29 after dismissing Tommy Fury's attempt to reschedule their failed bout for a third time.
THE GUARDIAN
LA Clippers point guard John Wall said he considered taking his own life during a time in the past three years when he was dealing with a torn Achilles and the deaths of family members at the height of the Covid-19 pandemic.
BIRMINGHAM MAIL
Norwich manager Dean Smith insists he never considered allowing Onel Hernandez to return to Birmingham City on a full-time basis.
Steven Gerrard hopes Morgan Sanson can get a move away from Aston Villa before the summer transfer window shuts on Thursday.
DAILY RECORD
Swindon and Hibs have opened transfer talks over forward Harry McKirdy.
Lee Johnson knows he must add to his squad before Thursday's transfer deadline and is in need of strikers.
Rangers midfielder Stephen Kelly is wanted by Livingston having struggled for game time at Ibrox this term.