All the top stories and transfer rumours from Tuesday's national newspapers…
Barcelona expected to finalize Aubameyang's transfer today
According to ESPN, Barcelona is expected to finalize the transfer of Aubameyang to join Chelsea this Tuesday, and the Blues are currently offering 17 million euros.
Barca is expected to finalize the transfer of Aubameyang to join Chelsea this Tuesday, with Barca asking for around 20 million euros, while Chelsea's current offer is 17 million euros, the report said.
The media outlet said the two sides are scheduled to hold an important meeting on Tuesday morning local time.
Spurs announce permanent signing of Cristian Romero.
Tottenham Hotspur has officially announced that it has bought out Argentine central defender Romero from Atalanta, signing him until 2027. It is reported that the buyout fee is 41 million pounds.
Romero joined Spurs on loan last August and has made 32 appearances for the team so far, scoring his first goal for Spurs in the win over Brighton in March this year.
Last season, he won 10 of the 14 Premier League matches he played in, helping the team finish fourth in the Premier League and return to the Champions League.
For the national team, Romero has made 11 appearances for Argentina, scoring one goal.
He was previously injured in the game against Chelsea and is expected to return to training in the near future after being out for about three weeks.
Lyon midfielder Paqueta joins West Ham United
Lyon midfielder Paqueta has officially moved to join West Ham United and will wear the team's No. 11 shirt.
West Ham United announced that they have signed Paqueta, 25, for a club-record fee with a one-year option to extend his contract until June 2027.
Lyon said that Paqueta's total transfer fee is 61.63 million euros, with a fixed transfer fee of 42.95 million euros and a floating bonus of 18.68 million euros, of which 15% of the profit will be paid to his former owners Milan as a second transfer share.
Fabian Ruiz is about to join Paris
Napoli midfielder Fabian Reus is set to join Paris Saint-Germain, according to Romano.
Romano said: "Paris Saint-Germain is finally ready to sign Fabian Reus, here we go! Because the deal is about to be completed, Fabian Reus will leave for Paris on Tuesday."
Reports say Napoli will receive between 22 and 23 million euros for the deal, while Fabian Reus will sign with Paris Saint-Germain until June 2027.
Cavani joins Valencia
Free agent Cavani has officially joined Valencia.
Valencia officials said that they have signed Cavani until June 2024.
Cavani, 35, who became a free agent after his contract with Manchester United expired this summer, has now officially landed in La Liga after having experience in Serie A, Ligue 1 and the English Premier League.
Aubameyang suffered a violent home invasion
Barcelona striker Aubameyang was robbed in a violent home invasion this morning and was personally beaten by a mob.
Aubameyang was violently robbed at his home in Castelldefels, Barcelona, in the early hours of this morning. According to police sources, at least four men climbed into his garden, threatened and beat him with guns and iron bars. The mob also used weapons to intimidate Aubameyang and his wife until they managed to open a safe from which they took some jewelry. According to several witnesses, the thugs, who spoke Italian, fled in a white Audi A3 car.
The home invasion took place around 1 a.m. local time this morning, and both Aubameyang and his wife were reportedly tied to the floor for an hour. Fortunately, they are both fine. It was Aubameyang's wife who called the police, who are launching an investigation to find the suspects.
This is not the first time a Barcelona player's home has been burglarized, but thieves usually commit their crimes when the player is not at home, like what happened to Alba in 2018.
Di Marzio: Napoli still waiting for the possibility of a Ronaldo-Osimhen swap
Di Marzio news, Napoli side is still pushing for the transfer of Ronaldo, Navas and Fabian Ruiz.
After the draw with Fiorentina, Napoli is once again focusing on the transfer market. In terms of transfers out, the deal for Fabian Ruiz to Paris Saint-Germain for 22 to 23 million euros (excluding bonuses) should be completed today.
As for the Navas deal, the Costa Rican goalkeeper still has not reached an agreement with Paris Saint-Germain on the release of his contract. In fact, Paris is not willing to release Navas from his contract, which could prevent him from going to Napoli. In this case, Napoli will try again in the winter transfer window.
There is also important news on Ronaldo. In fact, Napoli have been waiting for hours to find out if the Portuguese star's agent, Jorge Mendes, will bring a concrete offer that would flesh out Cairo's return to Italy and Osimhen's move to Manchester United.
Barkley left the team as a free agent
Chelsea FC has officially announced that 28-year-old midfielder John Barkley has left the team and become a free agent.
Chelsea official announcement
Ross Barkley has left Chelsea as a free agent after a mutual agreement.
The midfielder joined Chelsea in January 2018 from Everton, the club where he started as a teenager, and made 100 appearances for the Blues in all competitions, scoring 12 goals. Most memorable was his injury-time equalizer against Manchester United during his first full season at the Blue Bridge.
At the end of that season, he helped us win the UEFA Cup, with Barkley scoring a penalty in the semi-final elimination of Eintracht Frankfurt and then coming on as a substitute in Baku's final win over Arsenal.
Barkley played a part in our run to the 2020 FA Cup final, scoring against Liverpool and Leicester City, before coming on as a substitute in the final against Arsenal, which the team unfortunately lost to the Gunners. In the FA Cup final at Wembley this year, the Blues lost to Liverpool on penalties, with Barkley also scoring a penalty. However, he has already won an FA Cup winner's medal in 2018.
Barkley's last game was against Watford in May this year, our last game of last season, and it was his injury time header that sealed all three points for his team.
We would like to thank Ross for his contribution to Chelsea and wish him all the best for the rest of his career.
Atletico Madrid defender Lodi joins Nottingham Forest on loan
Nottingham Forest has announced that Atletico Madrid defender Lodi has joined the club on a season-long loan, making him the 18th player to be brought in this summer.
Atletico Madrid also confirmed the deal, saying that Lodi has extended his contract with the club until 2026 before going out on loan.
According to Romano, the loan fee is 5 million euros, and Nottingham Forest has a buy-out option worth 30 million euros.
Lodi, 24, who plays as a wingback, joined Atletico Madrid in July 2019 in a €21.8 million move from Atletico Parana.
During his time at Atletico Madrid, Lodi has played 118 games for the team, contributing six goals and 10 assists.
Atletico Madrid 1-0 Valencia | Highlights
Atletico Madrid faced Valencia on the road. In the first half, Yunus Musa's long-range shot was blown, and Morata's goal was missed. In the second half, Marañon's header was high, Castillejo's long-range shot was confiscated, Griezmann's long-range shot was deflected and Cunha's header was blown, finally, Atletico Madrid 1-0 Valencia.
Netflix and Amazon are making a bid to make a Manchester United documentary
Netflix and Amazon, the two streaming giants, both want to make a documentary about Manchester United this season.
This follows Amazon's documentary for Arsenal, ALL or NOTHING, which recounts the rollercoaster year Arsenal endured last season, and the streaming giant's executives are keen to capitalize on the carrier's overwhelming popularity. Previously, Manchester City, Tottenham Hotspur and Sunderland have also appeared in similar programs – and all of these documentaries have proven to be huge ratings successes.
Sources from The Sun say that United are also the number one target for the streaming giants – and they are willing to pay millions for it. A source revealed: "The story of United's rebuild under Tenhag, the future of Ronaldo and the campaign to oust the Glazer family from the club is like a Hollywood blockbuster in itself. That's why the club has become a new target for Amazon and Netflix producers, and they have already made several offers. The producers have made the most of the factual nature of these types of shows, which gives everyone in the film a chance to show another side of their rightful role at the club, much like Arsenal manager Arteta did in "The Lone Ranger". So far, though, Manchester United hasn't given the idea the green light. But their interest is still very strong and unlikely to subside."
The source continued, "Amazon has already paid around £10 million for the ALL or NOTHING series, but the producers would be willing to spend much more than that if they could get into the biggest clubs in the world. If they can pull it off, audiences from China to the US to Manchester will want to tune in."
The Sun understands that Barca are also being targeted for the 'Undercover' show, and there is a general interest in such a show after a series of financial turmoil at the club in the last two years. The source said: "The 'Undercover' soccer show is very popular at the moment, with both Amazon and Netflix looking to showcase more and more soccer shows. Most top clubs now have their own TV channels, but they don't show the real inside story of their clubs, which is why the Undercover Watch show is proving so popular right now."
The report even goes on to say that Amazon also wants to film Newcastle United during the 2023/24 season. The story of this season will appear on screen in the summer of 2024 and could provide a unique insight into the story of what the club has gone through since the Saudi-led takeover last October.
Man Utd Liverpool eye Brighton's Kessedo, Brighton bids £100m
Ecuadorian media RTS Ecuador reporter José Alberto Molestina reported that Brighton bid £100 million for their midfielder Caicedo.
A number of Premier League giants, including Manchester United and Liverpool, are keeping tabs on the 20-year-old Ecuadorian midfielder. According to the report, Brighton does not plan to sell Caicedo this season, and the player is the most important part of Brighton's plan for the 2022-23 season.
In addition, Brighton bid 100 million pounds for Caicedo, whose current contract expires in the summer of 2025. For the team, they hope that Kessedo will be able to give a better performance at the World Cup in Qatar at the end of this year.
Juve continues to talk about Paredes today
Juve is expected to have a new round of dialogue with Paris on the transfer of Paredes in local time (August 30).
The report says that both sides will try to agree on the transfer of Paredes in this dialogue, and the player's side wants to join Juve, with whom he has already reached a personal agreement.
Scilla said that Juve is confident of signing Paredes, while the Parisian side accepts to rent first and buy later, but needs Juve to agree to force a buyout of Paredes on a very easy to reach condition.
Paredes, 28, has delivered one assist in three league appearances for Paris this season and his current contract with the team will expire in the summer of 2024.
William is undergoing a medical at Fulham and will soon join the team
Fulham have arranged a medical for Willian today after terminating his contract with Corinthians, and the Brazilian star will become Fulham's new recruit, according to well-known journalist Romano.
The 34-year-old has played 339 games for Chelsea, scoring 63 goals and contributing 62 assists.
DAILY MAIL
Liverpool are eyeing a shock swoop for Sheffield United midfielder Sander Berge before Thursday's transfer deadline.
Manchester United expect to have completed their summer business following the arrivals of Antony and Martin Dubravka.
Fulham have agreed a deal with Paris Saint-Germain for out-of-favour left-back Layvin Kurzawa as they continue to bolster their squad this summer.
Thierry Henry has become the latest big name to join forces with Serie B side Como after joining the club as a minority stakeholder.
DAILY TELEGRAPH
Chelsea remain hopeful of lowering Pierre-Emerick Aubameyang's demands in time to sign him even though the deal has been complicated by an attack on the Barcelona striker.
Tottenham are in talks to sign Yannick Carrasco from Atletico Madrid.
Southampton have had a bid of €25m (£21.4m) rejected by PSV for Cody Gakpo.
DAILY STAR
Cristiano Ronaldo's agent Jorge Mendes has reportedly re-opened talks with Chelsea as the Manchester United star seeks a last-gasp exit from Old Trafford.
Neil Warnock is prepared to come out of retirement should Sunderland offer him the manager's job.
DAILY MIRROR
Cristiano Ronaldo's team-mates at Manchester United reportedly celebrated when they learned that he wanted to leave this summer.
Barcelona and Manchester United are reportedly in discussions over a swap deal that would take Sergino Dest to Old Trafford, with Aaron Wan-Bissaka going the other way.
DAILY EXPRESS
Arsenal and Newcastle are on alert as Real Madrid's Marco Asensio has reportedly been offered to Premier League clubs.
Leeds' transfer for Hwang Hee-Chan is not progressing as the club will not sell Jack Harrison to Newcastle to fund a deal for the Wolves forward, according to reports
THE TIMES
Paris Saint-Germain are monitoring N'Golo Kante's contract situation after Thomas Tuchel plunged the World Cup winner's long-term Chelsea future into uncertainty.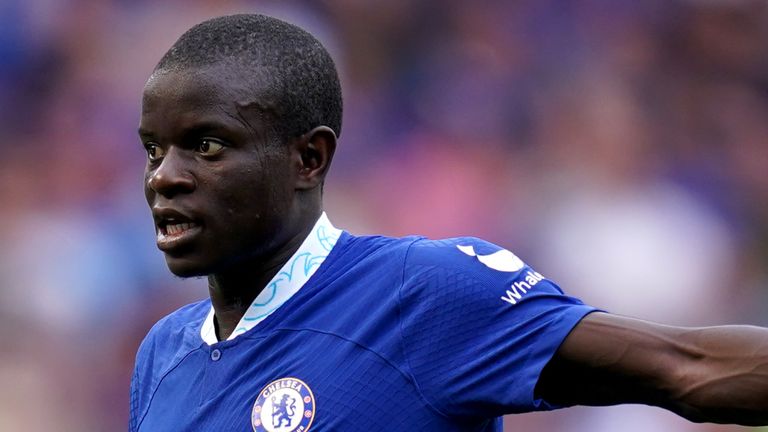 Crystal Palace have made a bid of around £27m for Conor Gallagher after intensifying efforts to re-sign the midfielder from Chelsea.
MANCHESTER EVENING NEWS
Manchester United are scouting Celtic midfielder Matt O'Riley only eight months after his transfer from MK Dons.
SCOTTISH SUN
Hearts striker Liam Boyce fears his season could be over after a scan on his damaged knee.
Celtic have moved to reignite their interest in St Mirren kid Dylan Reid.