UEFA was forced to declare the Champions League draw void after a series of mistakes were made during the process on Monday morning.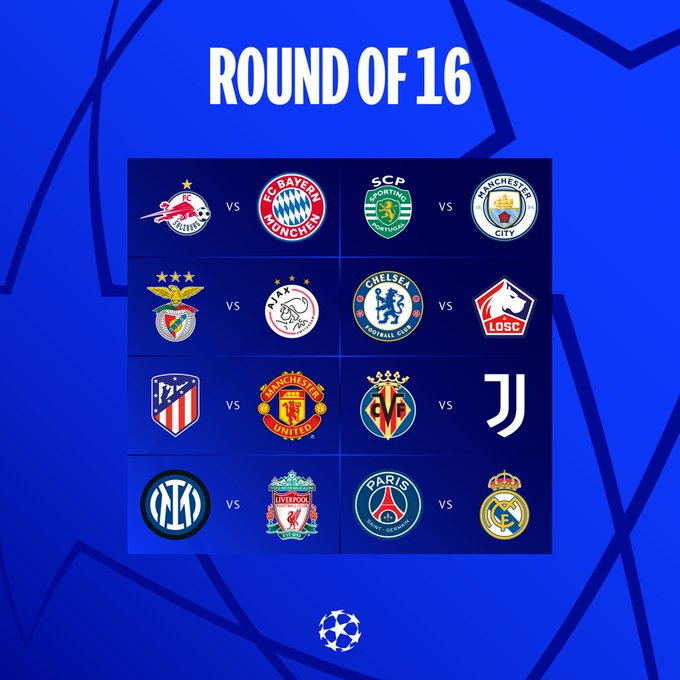 Draw list in full
Salzburg v Bayern Munich
Sporting v Man City
Benfica v Ajax
Chelsea v Lille
Atlético v Man United
Villarreal v Juventus
Inter v Liverpool
PSG v Real Madrid
Last 16 ties take place over two legs with the group winners at home in the second leg. The first legs will be played on 15/16/22/23 February with the second on 8/9/15/16 March (UTC dates).
Manchester United had been handed a mouth-watering last-16 tie against Paris St Germain, but only after being erroneously paired with Villarreal in the first instance and then mistakenly left off the list of possible opponents to face Atletico Madrid.
After clubs sought clarification from the European governing body on what had happened, UEFA announced the ties would be redrawn at 2pm on Monday.
"Following a technical problem with the software of an external service provider that instructs the officials as to which teams are eligible to play each other, a material error occurred in the draw for the UEFA Champions League Round of 16," a statement said. "As a result of this, the draw has been declared void and will be entirely redone at 1500 CET."
The confusion began when United were paired with Villarreal – a side they had already faced in Group F. But the problems did not stop there.
When Atletico Madrid were the next side to be drawn, Marchetti said: "For Atletico Madrid, the possibility are all [teams] except for Liverpool, who was in the same group, and Manchester United as they were already drawn."
Let's compare and contrast…
The draw that NEVER was…
Benfica vs Real Madrid
Villarreal vs Manchester City
Atletico Madrid vs Bayern Munich
Salzburg vs Liverpool
Inter Milan vs Ajax
Sporting Lisbon vs Juventus
Chelsea vs Lille
Paris Saint-Germain vs Manchester United
UEFA will no doubt be furious about how it happened – "a technical problem with the software of an external service provider" – as it has cast a shadow on the day's events, not to mention the fact that we will now potentially be denied a Messi-Ronaldo showdown.
However, it makes sense to be as transparent as possible. A mistake happened and they acted quickly to void the previous draw in order to quell any accusations of foul play.
Nevertheless, not everyone is happy about the fact the draw is being re-done. Real Madrid have said it's a "scandal", so today may not be the end of it!
Here is UEFA's statement in full once more:
"Following a technical problem with the software of an external service provider that instructs the officials as to which teams are eligible to play each other, a material error occurred in the draw for the UEFA Champions League Round of 16. As a result of this, the draw has been declared void and will be entirely redone at 1500 CET."
Further Reading
UEL Draw: Barcelona would take on Napoli in the UEL Knockout stage, Sevilla vs GNK Dinamo, Atlanta vs Olympiacos >>> SEE FULL LIST
UCL DRAW: Messi v Ronaldo LOCKED IN as Liverpool, City and Chelsea get dream CL draws, FULL list here